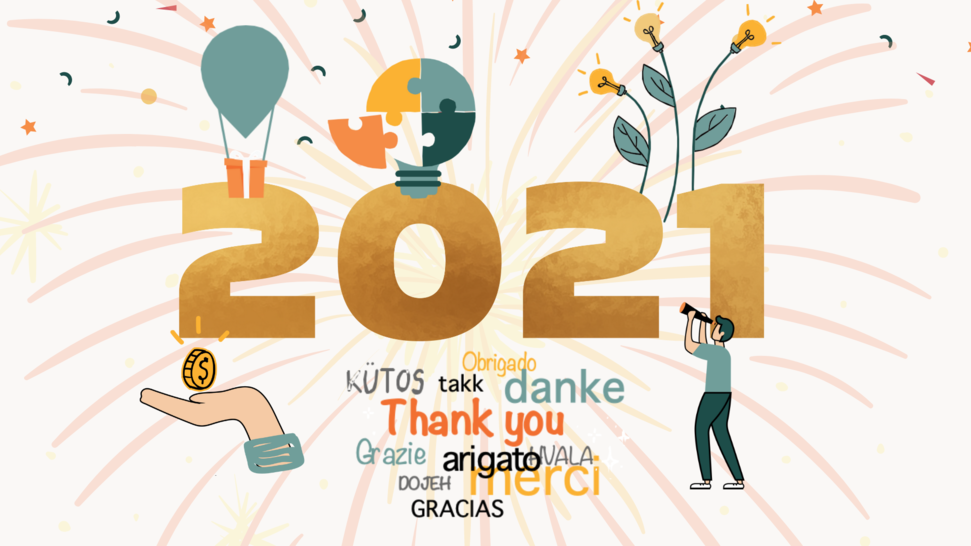 It's been an exciting year despite the difficulties and obstacles we've all had to face together. At Tadamon, we're happy to have supported many civil society organizations (CSOs) with greater visibility, capacity-building trainings for increased impact, and vital resources, with a strong focus on crowdfunding. Here's a summary of our key moments during the year:
Our Tadamon Community Grew
Every day our Tadamon community gets bigger and bigger! Until now, 31 OIC member countries have endorsed the program, over 28 development partners and 12 crowdfunding platforms have already joined, and nearly 1500 CSOs have signed up to the Tadamon Platform.
Tadamon Expands to New Countries
We've expanded our activities to 14 new countries in the Tadamon community! We've started with implementing our activities and equipping CSOs in Niger, Senegal, Burkina Faso, Comoros, Pakistan, Maldives, Iraq, Jordan, Yemen, Saudi Arabia, Palestine, Libya, Sudan, and Djibouti with the skills they need to raise funds by using the tool of crowdfunding.
Tadamon Crowdfunding Academies across the globe
We completed four Tadamon Crowdfunding Academies, a capacity-building program that empowers and builds the capacities of organizations to gain the necessary knowledge and skills on how to prepare and run a successful crowdfunding campaign. 80 CSOs from Indonesia, Kazakhstan, Lebanon, and Morocco participated in our program and received completion certificates.
We've also got a fifth Academy underway in Somalia, where 21 CSOs will prepare and launch their crowdfunding campaigns with support from Simad University.
We've just closed two public calls for project proposals in Tunisia and Palestine. Looking forward to see new amazing organizations which are going to work closely with the Tadamon team.
Championing Issues from Education to Children's Rights Through Crowdfunding
Over 30 organizations launched crowdfunding campaigns and more than 800,000 USD have been mobilized through the Tadamon platform.
You can support ongoing campaigns:
Tadamon Launches New Grant Program
We received over 270 applications for the Tadamon Grants program from CSOs from Lebanon, Indonesia, Kazakhstan, Somalia, Morocco, and Tunisia. The program will support organizations that have the potential to scale up and amplify their development impact with up to 100,000 USD. In the next two months, Tadamon's international jury will evaluate and select winning organizations based on a rigorous set of selection criteria. After the selection process, all applicants will be notified of the results by February 30, 2022.
Tadamon Talks & Masterclasses
We've launched the Tadamon Talks, a webinar series that explores alternative finance for CSO empowerment, as well as Tadamon Masterclass – an interactive workshop format that focuses on sharing practical tools for CSOs. In this space, we seek to exchange insights and learnings on crowdfunding and other topics, promoting good practices in CSO capacity-building and connecting with prominent alternative finance experts/crowdfunding platform leaders. If you've missed our webinars and workshops, watch them through our Youtube channel.
We are not stopping in expanding the scope of our work, soon we are launching the Tadamon Accelerator for the most innovative CSOs related to post-covid solutions.
We hope that 2022 will be better and brighter for you all!