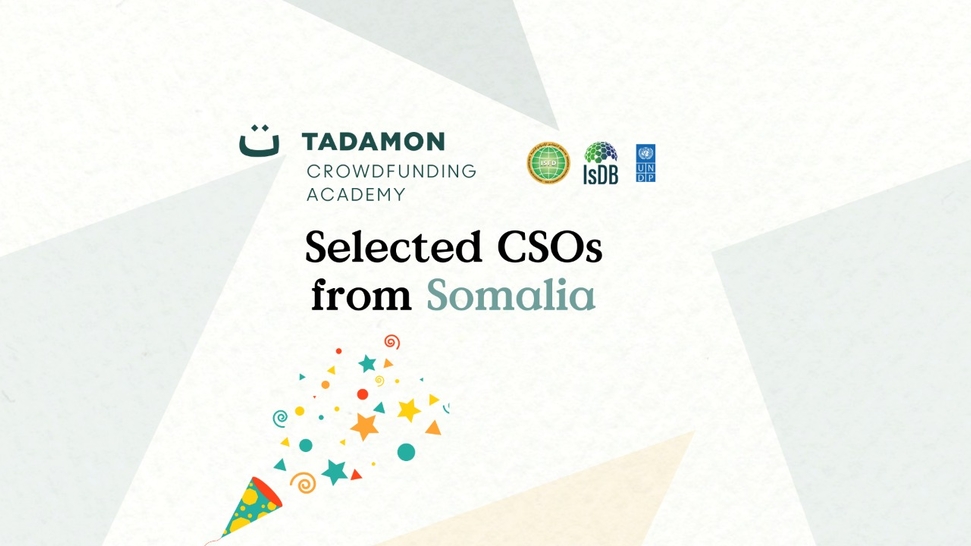 We're happy to announce the selected organizations for the Tadamon Crowdfunding Academy in Somalia!
Here is the list of organizations:
Qabso Daqtarka
Somali Youth Vision
Somali Digital Media Academy
Abaarso Network
Zam Zam Foundation
Save Society Welfare organisation (SSWO)
Somali Vulnerable Actors
Timely integrated development service
Somali Innovation Hub
Somali Youth Volunteers for Development Association (SOYVDA)
Kaaba Microfinance Institution (K-MFI)
Somali Aid
Fresh Qurad
Somaliland Youth Society (SYS)
Akhriye
Global Care Foundation
Horn Innovation Lab
Youth Empowering Council
Horn Development Agency (HornDA)
Direct Aid To Natures Development Organization
Agro Plantation for Climate Change and Food Security Organization
The Tadamon Crowdfunding Academy is an interactive training program that empowers and builds the capacities of organizations to gain the necessary knowledge and skills on how to prepare and run a successful crowdfunding campaign.
The program's mission is to empower CSOs and NGOs with know-how on how to finance their projects and ideas in alternative ways, build and grow their community, give their projects more visibility, and engage more partners and donors.
UNDP's Innovation Specialist, Sherif El Tokali, explains the benefits: "Selected CSOs will participate in the Academy to develop a crowdfunding campaign using e-learning tools and offline training by following a tested programme that offers learning materials and presentations, work assignments and guidance from leading crowdfunding experts. The selected CSOs will qualify for grants and additional support being provided by ISDB and UNDP. It is an excellent opportunity and we would love to see more CSOs applying."
Upon the successful training program, all participants will be able to launch their own crowdfunding campaigns on local and international crowdfunding platforms.
"Access to finance for businesses is a major issue in Somalia. Therefore, to help tackle this issue, we started promoting crowdfunding as a viable funding alternative for startups in the country. We launched our first campaign in 2019 and raised more than $7k in one month; but within two years, our campaigns are now raising more than $32k in one month. That's a huge progress in an infant innovation ecosystem like ours. It's for these reasons that we believe the Tadamon Crowdfunding Academy in Somalia will take the lead in establishing crowdfunding as an attractive financing alternative in the country." Mohamed Muse Hassan, Director of SIMAD iLab at SIMAD University.
The Tadamon Crowdfunding Academy is part of the "IsDB - ISFD NGO Empowerment for Poverty Reduction Program", which is sponsored by the Islamic Solidarity Fund for Development (ISFD), managed by the Islamic Development Bank (IsDB), and implemented by the United Nations Development Programme (UNDP) as well as other strategic partners.
Looking forward to seeing these organizations develop their crowdfunding campaigns