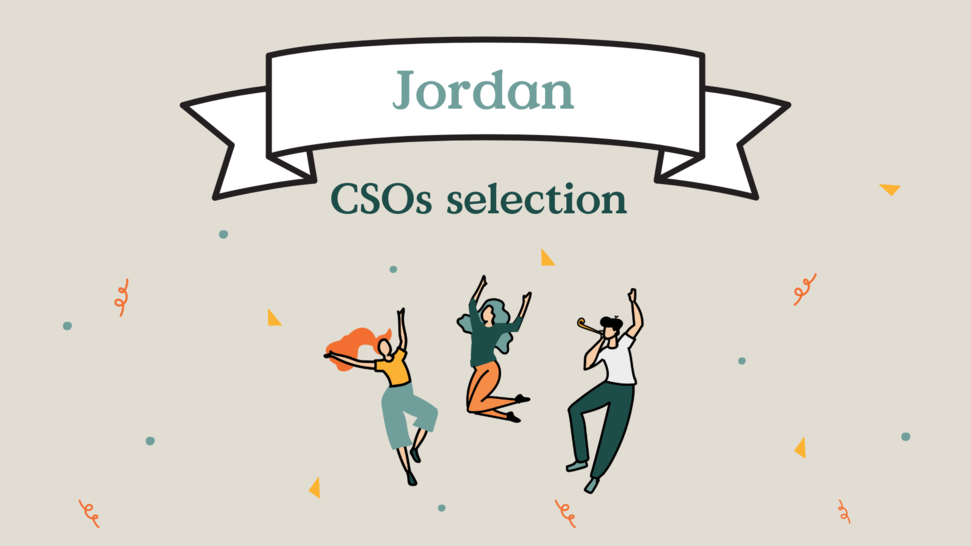 We're happy to announce the selected organizations for the Tadamon Crowdfunding Academy in Jordan! The 24 civil society organizations (CSOs) were selected from 108 applications after evaluation and compliance verifications by the Jordan Governement, Tadamon team, UNDP Jordan, and local partner.
Tadamon Crowdfunding Academy in Jordan
The Tadamon Crowdfunding Academy is a training program, that enables civil society organizations (CSOs) to raise funds using crowdfunding. The training program in Jordan will be implemented with support from a local partner - The Crown Prince Foundation/Naua platform.
"UNDP in Jordan is looking forward to Tadamon Crowdfunding Academy, as we continuously work with civil society organizations to contribute to achieving the Sustainable Development Goals. This academy will offer the knowledge and tools to access innovative financing solutions and ultimately empower them to sustain and grow their important work" - said representatives from UNDP Jordan.
Selected CSOs will develop their crowdfunding campaign through e-learning tools and offline training using learning materials and presentations, work assignments, and guidance from leading crowdfunding experts.
Upon the successful training program, all participants will be able to launch their own crowdfunding campaigns on local and international crowdfunding platforms.
"The Crown Prince Foundation (CPF) is proud of our cooperation and collaboration with the Civil Society in Jordan, one of the main actors that provide societal and development services in alignment with state institutions endeavors toward achieving Jordan's development goals and SDGs. We highly appreciate this relationship to establish the Crowd Funding Academy. This initiative will contribute significantly to the enhancement of CSOs' performance and efficiency in digital funding through the Naua platform, one of the initiatives of CPF, to enhance the role of civil society towards providing relief and development for local and national societies." - said a representative from The Crown Prince Foundation.
List of the selected organizations:
Jerash Sky Charitable Society
NAMA Strategic Intelligence Solutions Co. Ltd.
nashmiat to empower women
Broccoli for capacity building
Fada Al Watan Charitable Society
Children Museum Jordan
Opinions Without Borders Center for Sustainable Development
Society for Protecting Family Violence Victims
Autism mena "AMENA" Foundation
Farm Jo
Toward a Better Tomorrow for Development and Empowerment
جمعية سيدات مدين الخيريه - mideen local CBO
Hareer for community development
Isnad International Center for Empowerment
LOYAC Company for National Training and Statistical Consultancy
Raneen Foundation
Tahfeez Association
Khoyoot Al Tarabot for Training & Development
Princess Taghrid Institute for development and Training
Tafilah women charitable society
Naseej foundation for sustainable development
Sakeena Charity for social support
Himmetna Charitable Organization
The Jordanian hashemite fund for human development
IsDB - ISFD NGO Empowerment for Poverty Reduction Program
The Tadamon Crowdfunding Academy is part of the "IsDB - ISFD NGO Empowerment for Poverty Reduction Program", which is sponsored by the Islamic Solidarity Fund for Development (ISFD), managed by the Islamic Development Bank (IsDB), and implemented by the United Nations Development Programme (UNDP) as well as other strategic partners. The program's mission is to empower CSOs and NGOs with know-how on how to finance their projects and ideas in alternative ways, build and grow their community, give their projects more visibility, and engage more partners and donors.
Looking forward to seeing these organizations develop their crowdfunding campaigns.