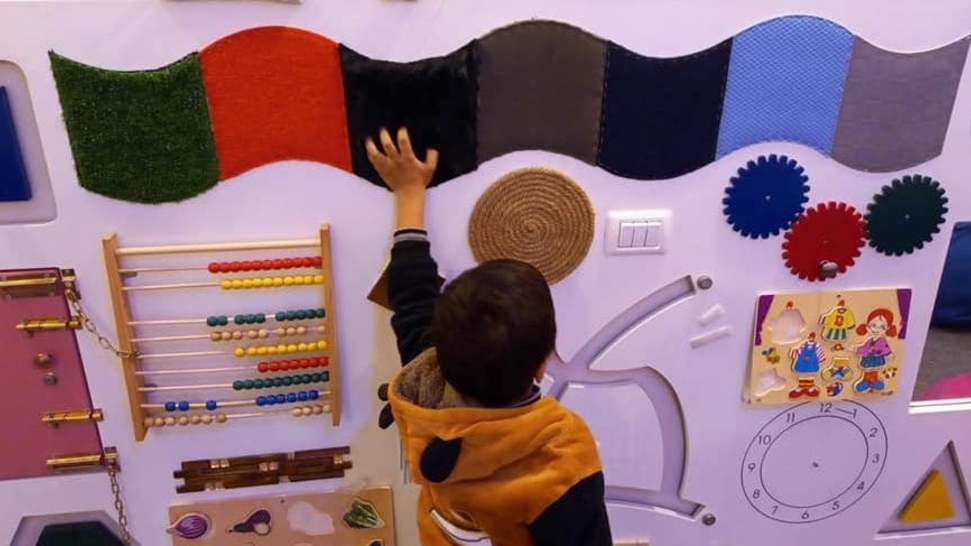 The Raseel Charitable Association looks forward to supporting some of the most vulnerable families in the State of Palestine, those that have children with autism, by providing them with free treatment sessions. Around 1000 sessions per year will be provided to children between the ages of 3 and 13 years old living in the Ramallah and Al-Bireh Governorate. These rehabilitation treatments consist of classes and individual sessions which aim to bridge the gap between the child and their environment. Children who go through this treatment will learn better social skills, develop their language and speech skills, learn diverse methods of self-care, and much more. Unfortunately, fifty children in this program who are in need of treatment cannot afford it. Indeed, autism is not considered a disease in the State of Palestine, and as such is not covered by their health insurance, thus the funds collected by Raseel are essential for the families looking for treatment for their children.
In this interview Alaa' Halayka, Founder and Executive Director of Raseel Association shares with us how the Tadamon Crowdfunding Academy helped his organization create a successful crowdfunding campaign that raised 10,000 USD in support of Palestinian children with autism and their families.
Why did you apply to take part in the Tadamon Crowdfunding Academy?
We were interested in discovering innovative ways to acquire funding for the Raseel Association. Tadamon's Crowdfunding Academy offered a working methodology on how to approach crowdfunding, as well as an accessible program that we could be a part of. We learned that to succeed in Crowdfunding all that is needed is knowledge of public relations and persuasiveness (which can be achieved through good storytelling).
How did the Tadamon Crowdfunding Academy help you to prepare your crowdfunding campaign?
During the Academy training, we refined and developed our ideas, making them attractive to campaign supporters/donors. We learned how to overcome common problems by launching a crowdfunding campaign. We learned from other campaigns and success stories and got motivated to launch our own campaign. The supervision we received was a huge help in preparing our campaign.
What is one major takeaway (insight) you had about crowdfunding from the academy that you would like to pass on to others?
Firstly, public relations are key to a successful crowdfunding campaign. Secondly, to succeed in crowdfunding you need to learn how to effectively network at an individual level. Thirdly, your campaign message is essential. Providing a multitude of calls to action and diversifying your contribution needs is necessary in order to achieve your final goal. Fourthly, it is important that you accumulate 30% in donations of your funding objective in the first week of your campaign; being able to network at an individual level is very useful to this end.
Can you tell us more about your crowdfunding campaign? What is the project about?
We, at the Raseel Charity Association, created a Ramadan charity campaign to collect funds to "contribute to the treatment of poor children with autism" in Palestine. Our aim was to support Palestinian families with the costs of these treatments by providing 1,000 free treatment sessions for their autistic children.
What is the main highlight/milestone of your crowdfunding campaign?
The main highlight of our crowdfunding campaign was preparing the content and objective of the campaign, deciding who our target audience was and how we could present the campaign in a way that was attractive to this audience. Indeed, the implementation phase of the campaign and our diligence when selecting our initial target audience (friends and family) was ultimately the reason for its success.
How did you reach out and engage your target audience to donate to your campaign?
In the planning stages of the campaign, we categorized my target audience into "friends" and "the public". For each group, we created separate messages asking for their support. For our friend group, we contacted them personally asking if they would be able to help, and for the public, we promoted the campaign via the crowdfunding platform Launchgood and with support of the BuildPalestine.
Now that you have completed your campaign, what do you think is needed for a crowdfunding campaign to be a success? What would be something you would do differently?
In the future, I think it is important to create a campaign that keeps up with the demands of the modern world, by this I mean creating a campaign that uses animations, infographics, and creative short videos to make it more captivating. Social media is also a powerful tool that should be used to promote one's campaign. Additionally, I found that networking and creating new personal and professional relationships are essential. To maintain the engagement and investment of your audience in your campaign you should provide regular updates, especially once you have reached your campaign's objective.
Would you crowdfund again?
Yes, our crowdfunding efforts will certainly continue. We are working to raise the message of a marginalized group of people in Palestine, these are children with autism. The money we raise in this campaign will not be enough to solve the problem, these children will need continuous treatment, and so additional funding will certainly be needed in the future.
Would you recommend crowdfunding to other civil society organizations? What advice will you give them?
I would advise all organizations to participate in crowdfunding, as it is a fast and effective way to finance your projects and see results quickly. My main advice to this end is to work smarter, not harder.