Annika Cobb, Innovation Intern
This Palestinian youth circus is all about inclusion and empowerment
Ramallah, State of Palestine – When you think of education and empowerment of children, do you imagine a circus? Most people don't, but Shadi Zmorrod, a Palestinian actor and theatre instructor, and Jessika Devlieghere, a Belgian animator and social worker, are on a mission to use art and the circus to make a change in the State of Palestine.
Founded in 2006, the Palestinian Circus School provides children with a space to explore creativity and self-expression, socialize with peers, and engage in physical activities. What started out as a small circus school in a garage is now an organization with 13 full-time staff members and around 50 freelance artists and trainers. It has an educational program to train students and a social outreach program to reach students from vulnerable and marginalized communities.
In 2022, the Palestinian Circus School welcomed around 366 students through clubs in Ramallah, Birzeit, Tulkarem, Jenin, and Jerusalem, training approximately 300 children annually. They also kickstarted a program to train circus trainers so that more people can start their own circus schools and organize performances in the State of Palestine.
Hope in the form of a circus
With the support of the Tadamon Crowdfunding Academy, our bootcamp that trains civil society organizations to crowdfund, the Palestinian Circus School was able to raise almost $10,000 for their campaign in 2022. Thanks to the funds raised, 38 students will be able to attend the circus school for one year free of charge. While this was the Palestinian Circus School's second crowdfunding campaign, the experience was not easy. "It required an enormous follow-up effort. Hundreds of emails and messages were sent regularly, in addition to almost daily posts on social media," says Rana Nasser, the Projects Officer of the Palestinian Circus School and the campaign lead.
The campaign lasted two months in total and required reaching out to everyone they could, including families of students, partner organizations, past donors, the board of the organization, and the Friends of the Palestinian Circus School, the Belgium arm of the organization that raises awareness about the challenges in Palestine. One of their donors was a Belgian agency that is located in the State of Palestine. They hosted a breakfast meet-up for their employees and then gifted the donations to the campaign.
The circus as a safe haven
Having a space to play and enjoy freedom of expression is very important to the staff at the Palestinian Circus School. Just ask Nayef Abdallah, a trainer and an educational officer, who joined the team in 2008, two years after its foundation.
Nayef was raised in the Al Faraa refugee camp in the northern part of the State of Palestine. Growing up in a family with nine children, gave Nayef a huge responsibility to help provide for his family. He told us: "One hand cannot clap alone – you need more hands to clap, and we needed more hands in order to survive." So to support his family, he started selling popcorn in the street when he was just 10-years-old.
At age 17, Nayef left the refugee camp to look for better opportunities in Ramallah. While he was working in a restaurant in the city, Nayef met Shadi and began taking classes with the Palestinian Circus School. Soon, Nayef helped start the training program and became a trainer himself. The circus was his safe space and fueled his creativity, something that was lacking in Nayef's childhood.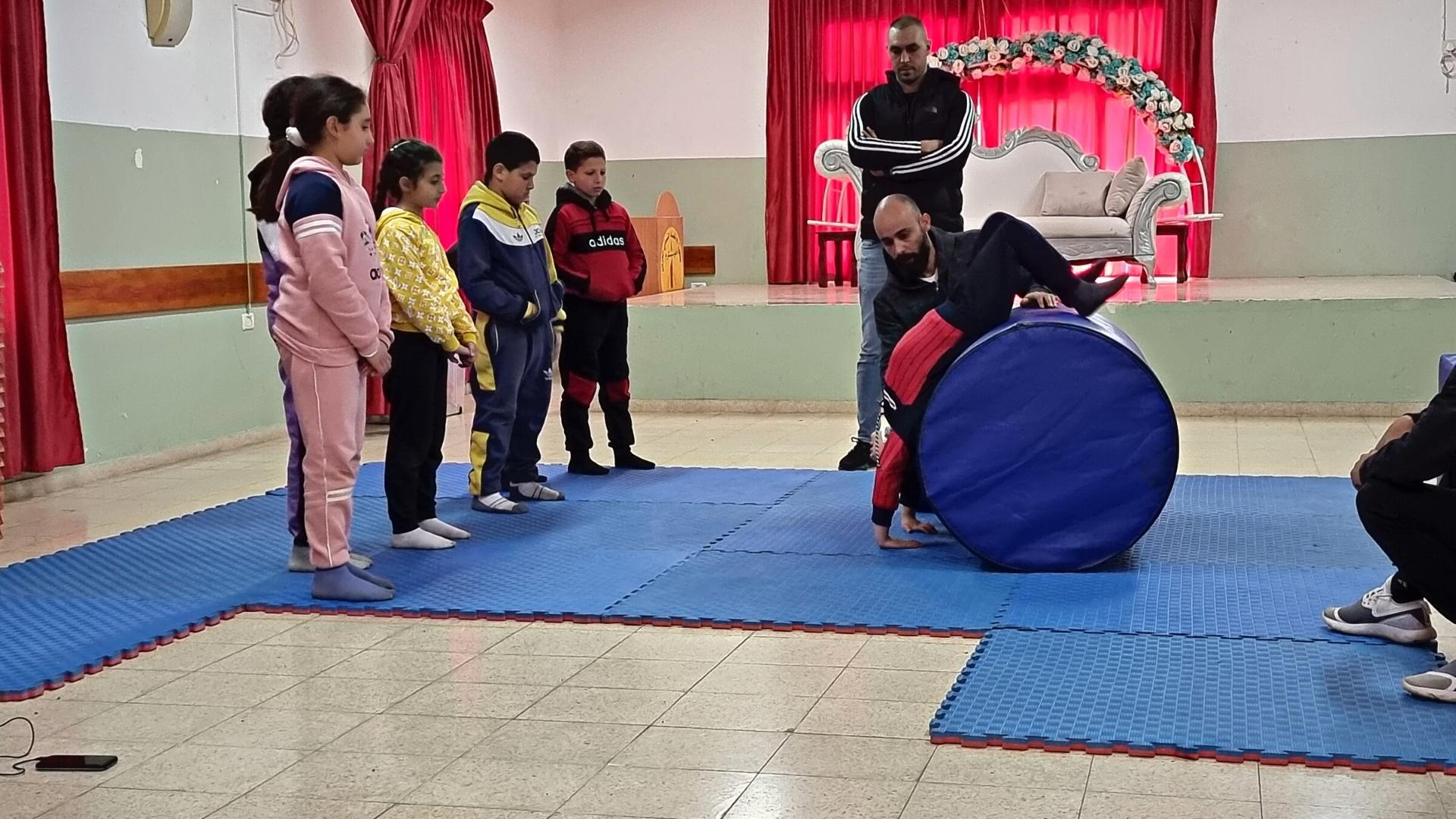 Nayef training with students
As a trainer, he finds working for the Palestinian Circus School to be a profound emotional experience. "Life was very hard and difficult," Nayef explains when talking about growing up in the refugee camp. Working from a very young age is not uncommon for Palestinian children, especially those in refugee camps where the economic opportunities are limited. Additionally, there are no safe places to play in refugee camps – the streets are dangerous and there are no playgrounds dedicated to children. As such, Nayef sees the many opportunities that the school gives to students.
The school opened new paths for Nayef. He eventually moved to Canada to study with the National Circus School in Quebec. After completing his studies, he was offered a position, but he told them: "Guys, how many circus teachers do you have in Canada? There are thousands of you. Palestinians do not have any. I must go back." And with that, he returned to Ramallah to continue teaching, ever more convinced in the power of the circus. "All the rules in the circus are about being safe and free. We lack both of these things in the State of Palestine," says Nayef. Seeing students play and climb without worry shows Nayef and many other Palestinians what they've been deprived of.
In 2010, Nayef pushed the school to new limits, expanding their outreach program to the Al Faraa refugee camp – the camp where he grew up. On their first day, more than 80 children showed up to participate in the activities and training. Overwhelmed by the turnout, they realized the immense community need and thirst for such initiatives. This is just one of many outreach programs they have launched over the years with partner organizations to engage marginalized groups such as children with disabilities and women.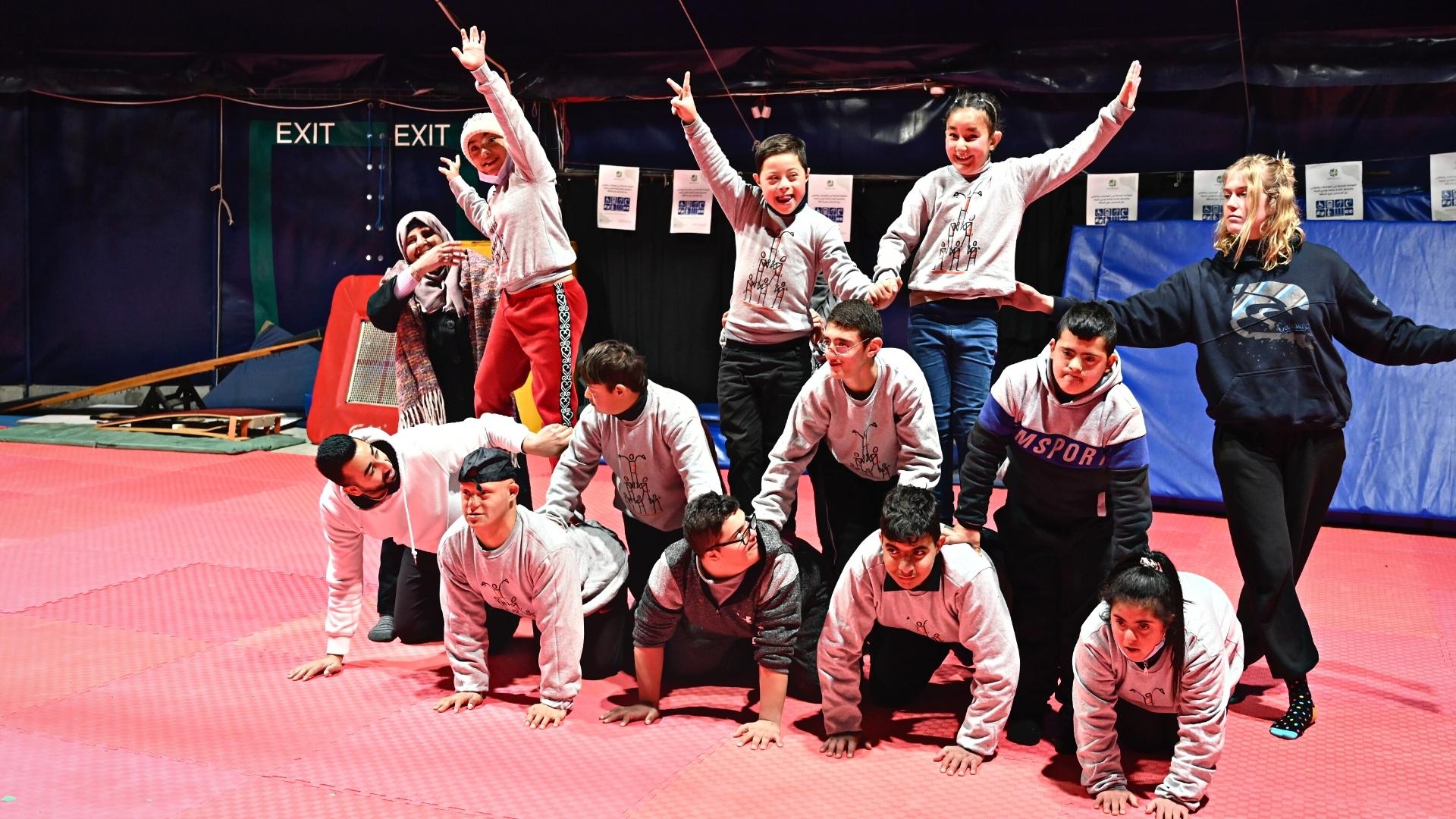 The Palestinian Circus School and their social outreach program for children with disabilities


The circus community
Nayef is not the only person who is passionate about the organization's mission – all the school's employees feel a deep connection to their work and have created a second family for each other. This is thanks to the hard work of Shadi and Jessika, who were persistent in creating this school even when people thought it was just a crazy idea.
Shadi believes that art is an important tool for changing society. "People were teasing him and making jokes about the idea of a circus school, saying he was crazy and that no one would support him," says Nayef. But Shadi and Jessika did not give up on their vision and now the Palestinian Circus School has become well known across Palestine, attracting employees and partner organizations alike.

Children training with the the Palestinian Circus School


An inclusive and empowering space
The school is open to everyone and does not turn students without means away. This is why the organization created a scholarships fund – to support those who don't have the financial means.
One student who joined through the social outreach program is Mohammad Assi. He is a 19-year-old boy with a mental disability that affects his speech and sight, and his ability to focus, retrieve information, and multitask. Because of lack of services and support, he experiences difficulties expressing his feelings and interacting with his classmates.
Feeling that he was different somehow from the other students, Mohammad dropped out of school in 8th grade. Concerned, his mother discovered the Palestinian Circus School through Mohammad's former school, the Star Mountain Rehabilitation Center, and enrolled Mohammad as a student. He started to train – he learned diabolo (a juggling or circus prop consisting of an axle and two cups), pyramids, how to do a front and back roll, and how to jump. Mohammed fell in love with the circus immediately. He excelled at diabolo, and quickly became known as "The King of Diabolo".
Mohammad performing with the Palestinian Circus School in Germany
"He completely changed. He was very shy in the beginning. He did not like talking much," explains Nayef. His time in the circus has helped him grow his confidence and ability to self-express. During a trip to Germany with the school, Mohammad began conversing verbally with others and was so outgoing that even his mother was astonished. His confidence in his speech continued even after the trip ended. The Palestinian Circus School transformed Mohammad through their ongoing support and positivity. Mohammad now dreams of becoming a circus trainer.
Looking forward, the Palestinian Circus School will continue to bring hope to children's lives through the art of the circus.
Learn more about Palestinian Circus School's work and support them.
THE TADAMON CROWDFUNDING АCADEMIES ARE SPONSORED BY THE ISLAMIC SOLIDARITY FUND FOR DEVELOPMENT (ISFD), MANAGED BY THE ISLAMIC DEVELOPMENT BANK (ISDB) AND IMPLEMENTED BY UNITED NATIONS DEVELOPMENT PROGRAM (UNDP).