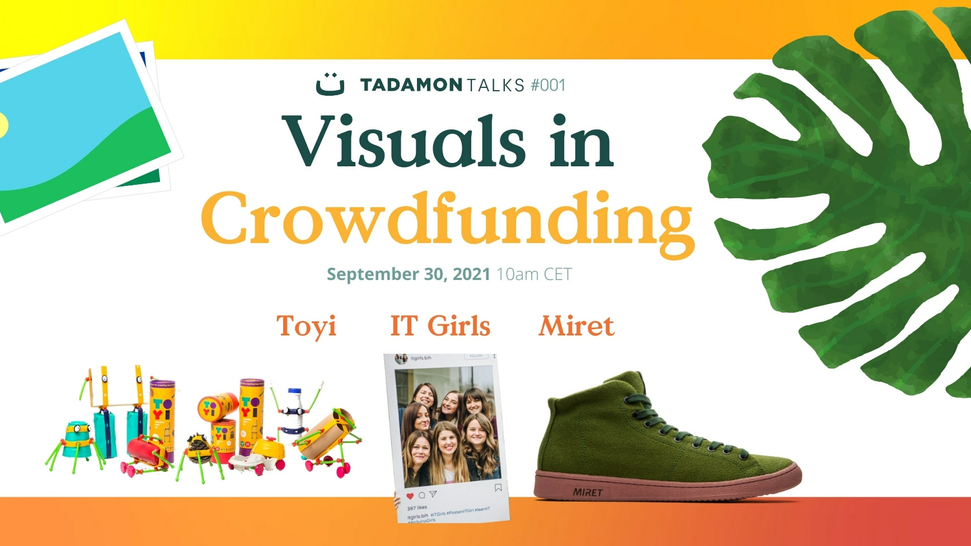 A picture is worth a thousand words. Visuals are essential to telling a powerful campaign story and engaging your target audience to support you in your crowdfunding journey. Compelling visuals can be used to clearly communicate your main messages, employing the art of visual communication.
Join us for our upcoming webinar where you will learn how effective visual communication can connect you with your supporters. Webinar registration is here.
During the webinar, you will meet the organizers of three successful crowdfunding campaigns. They will share their experience and tips on how they used visuals in fundraising for their project, product, or service. Following the webinar, you will have a better understanding of the importance of visuals for communication and how to use visuals in your campaign.
Tadamon Talks is a new webinar series that we've launched to explore alternative finance for CSO empowerment. The series is a space for exchanging insights and learnings on crowdfunding and other topics, promoting good practices in CSO capacity-building, and connecting with prominent alternative finance experts and crowdfunding platform leaders. We will also be looking at the different aspects of what sets an effective crowdfunding campaign apart from the others – diving into topics such as effective storytelling, video creation, setting funding goals, impactful communications, working with the media, and more.
The webinar is open to the public.
--------------------
AGENDA (September 30, 2021, 10:00 AM in Amsterdam, Berlin, Rome, Stockholm, Vienna/11:00 AM in Beirut and Jeddah/14:00 PM in Nur-Sultan/15:00 PM in Jakarta.
Opening and Welcoming Remarks by Robert Pasicko (Project Coordinator, UNDP IRH) and Eyas Ghreiz (Program Officer, IsDB) /5 minutes/
The good, the bad, the ugly by Bojan Opacak (Website and Graphic Design Specialist, UNDP IRH, AltFinLab) /10 minutes/
The Power of Visual Communication /20 minutes/
- Toyi creative play kit - Ögeday Uçurum (CEO of the Toyi)
- IT girls - Arijana Drinić (Head of the Accelerator Lab Bosnia & Herzegovina)
- MIRET ecological sneakers - Domagoj Boljar (Co-founder and COO of the Miret)
Q&A /25 minutes/