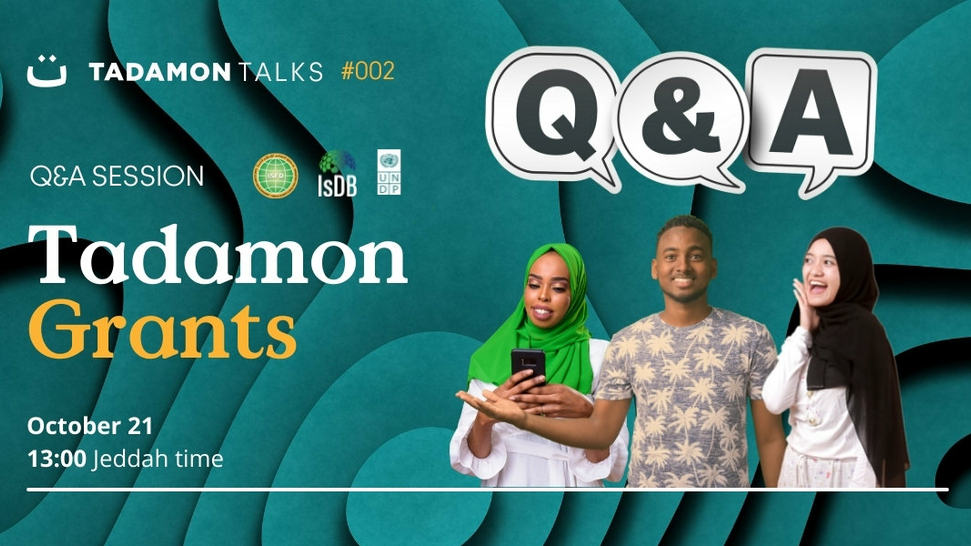 In October, Tadamon launched a grant program for civil society organizations. It is part of the IsDB - ISFD NGO Empowerment for Poverty Reduction Program, sponsored by the Islamic Solidarity Fund for Development, managed by the Islamic Development Bank, and implemented by UNDP and other strategic partners.
The Tadamon Grant Program is open for bold and innovative project proposals from CSOs from the following OIC member countries: Indonesia, Kazakhstan, Lebanon, Morocco, Somalia, and Tunisia, including citizen groups, social entrepreneurs and development start-ups, working in the field of: refugees, youth and women empowerment, education, employment, poverty and more.
Join us for our upcoming webinar where you will learn about the project proposal criteria & eligibility, and how to apply for a grant of up to 100,000 USD. This session is your opportunity to learn more about the program and ask any questions you might have.
When: October 21, at 1 pm Jeddah time
Format: Zoom Online Webinar
Link to the registration: https://undp.zoom.us/webinar/register/WN_9MYKiNKuRtCYsMUA6fLFBA
Interpretation provided: Russian, Arabic
----------
Tadamon Talks is a webinar series that explores alternative finance for CSO empowerment. The series is a space for exchanging insights/learnings on crowdfunding and other topics, promoting good practices in CSO capacity-building, and connecting with prominent alternative finance experts/crowdfunding platform leaders.
Attendees: CSOs mapped and invited by UNDP COs from Indonesia, Kazakhstan, Lebanon, Morocco, Somalia, and Tunisia.
Agenda:
10 min - Opening and Welcoming Remarks by Ismail Mohamoud Mohamed, IsDB
10 min - IsDB-ISFD NGO Empowerment Program for Poverty Reduction, NGO Empowerment for Poverty Reduction Program: Objectives, Targets, Key axes of interventions by Br Eyas Ghreiz, IsDB
10 min - Tadamon Grants Open call for project proposals and selection criteria by Ismail Mohamoud Mohamed, IsDB
5 min - How to sign up on the Tadamon website and apply with your project proposals by Hajdana Rukavina, UNDP IRH
20 min - Q&A
5 min - Closing remarks by Ismail Mohamoud Mohamed, IsDB