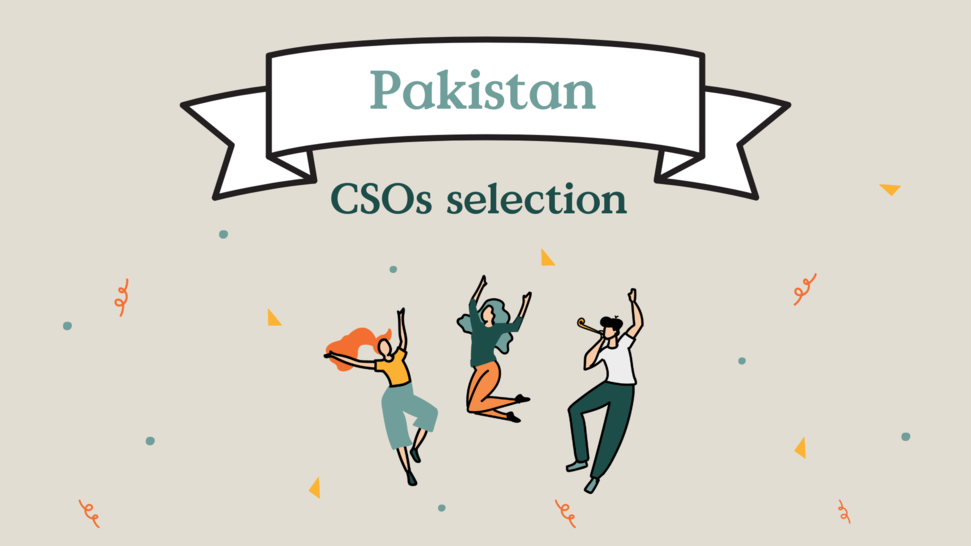 We're happy to announce the selected organizations for the Tadamon Crowdfunding Academy in Pakistan! Looking forward to working with these CSOs and supporting their crowdfunding skills and journey.
Selected organizations are:
Health Education and Development Society (HEADS)
Step Towards Empowerment of Pupil (STEP)
Fast Rural Development Program - FRDP
United Social Welfare Society (USWS)
FRIENDS OF PARAPLEGICS
Association for Humanitarian Development
TheListener.pk
Khawaja Sira Society
Environmental Protection Society (EPS)
The Little Art
Balochistan Rural Development Program (BRDP)
Greenstep Foundation
Health and Nutrition Development Society - HANDS
Peace Foundation
Advocacy, Research, Training and Services (ARTS) Foundation
Talking Sense Consultancy (Pvt) Ltd.
Rural Development Organization (RDO)
SUKAAR WELFARE ORGANIZATION
Shad Foundation
College of Youth Activism and Development
HUMAN RESOURCE SUPPORT PROGRAMME (HRSP)
Direct Focus Community Aid (DFCA)
SHIFA Welfare Association-SHIFA
Spring Association
The Tadamon Crowdfunding Academy is an interactive training program that empowers and builds the capacities of organizations to gain the necessary knowledge and skills on how to prepare and run a successful crowdfunding campaign.
"UNDP focuses on reimagining development for the digital age. The COVID-19 pandemic has revealed the dramatic potential of digital finance for transformative impact. By leveraging the Tadamon Crowdfunding Academy platform, we aim to build the capacities of Civil Society Organizations and provide them with meaningful skills. This will unlock a whole new realm of digital opportunities for them so that they can raise funds, enhance their knowledge, and accelerate the important work they do." - Ammara Durrani, Assistant Resident Representative and Chief of Development Policy Unit, UNDP Pakistan
The program's mission is to empower CSOs and NGOs with know-how on how to finance their projects and ideas in alternative ways, build and grow their community, give their projects more visibility, and engage more partners and donors.
Upon the successful training program, all participants will be able to launch their own crowdfunding campaigns on local and international crowdfunding platforms.
"Pakistan's civil sector has played a crucial role in improving the socio-development trajectory of the country for decades. However, amidst the volatile economic and political landscape, access to financing for these organizations has become increasingly challenging. Cirrus Pakistan is proud to be part of the Tadamon Crowdfunding Academy in Pakistan to introduce a new avenue of growth for these CSOs as a means of self-empowerment and sustainability. We at Cirrus are certain that these capable CSOs will seize the opportunity and continue being changemakers like always." - says, Ayesha J. Shahid, a founder of Cirrus.
The Tadamon Crowdfunding Academy is part of the "IsDB - ISFD NGO Empowerment for Poverty Reduction Program", which is sponsored by the Islamic Solidarity Fund for Development (ISFD), managed by the Islamic Development Bank (IsDB), and implemented by the United Nations Development Programme (UNDP) as well as other strategic partners.
Looking forward to seeing these organizations develop their crowdfunding campaigns.