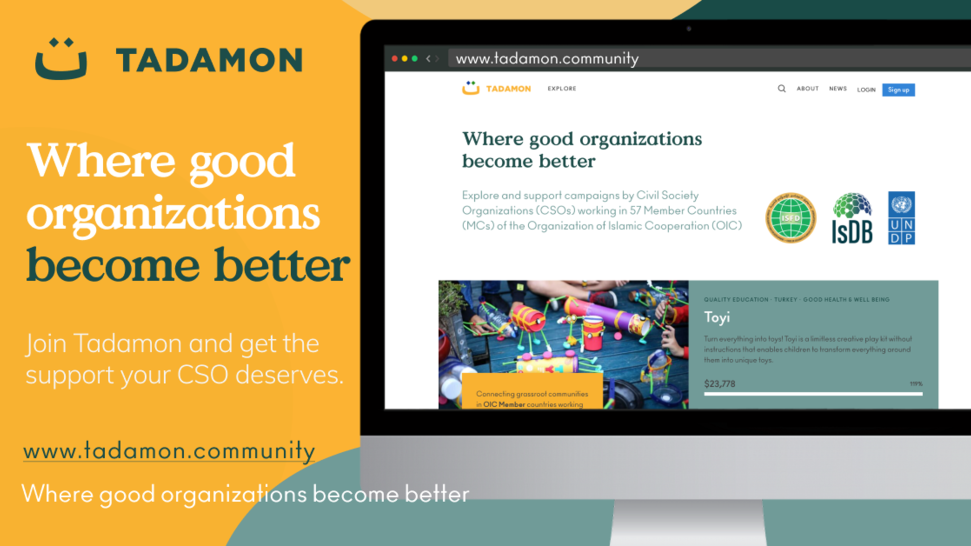 Tadamon Newsletter #2
Dear Tadamon community,
We have exciting news as we are kicking off a series of activities for which we think you should know about.
The coming months will be fully packed with training and tools to empower our member CSOs.
In this edition of the Tadamon Newsletter, we will take you through our latest updates including the new Tadamon platform, some good news about our growing community, and the national mapping webinars that we are launching soon in seven countries, where we will be calling CSOs in each MCs that are working in the field of livelihood, youth empowerment, refugees, community development, education, agriculture and rural development to learn more about NGOs Empowerment for Poverty Reduction Program by signing up to Tadamon on www.tadamon.community.
Website Launch and Sign Up
The Tadamon platform is finally operational, with campaigns and dedicated profile pages for civil society organizations. The aim of the platform includes mobilizing resources through innovative financing, knowledge sharing, experience, best practices and lessons learned among CSOs, and establishing a roster of CSOs from member countries. Behind the new design, we have built a customizable infrastructure to host and present our community. The new platform enables CSOs to sign up and create their own profile pages, host campaigns and showcase their activities and achievements for both partners and donors. It enables the donors and philanthropists to support innovative and transformative ideas and projects that make a difference to the lives of millions of people affected by conflict, fragility, poverty, and natural disaster. These new features make it easy to search and spot organizations based on different categories from SDG focus, geographical location, the field of activities to organization size.
Some of the key features are:
Completely new design with an updated and improved sign up form and user/CSO profile
Newsfeed with the latest such as crowdfunding/national mapping webinars for the govermenet focal points, and the CSOs, IsDB, UNDP staff, and the community members.
FAQ:Designed to answer some of your most pressing questions and much more
Data Dashboard for the number of MCs endoresed the program, number of CSOs joined Tadamon, number of partners, and number of projects/campaigns
Updates and upcoming activities on the Tadamon Pandemic Accelerator
How does it work?
Join Tadamon in three easy steps:
Visit our Tadamon Website.
Sign up and fill in your organization's information.
Get our confirmation email
What if you already signed up to Tadamon through other means?
For those of you who have already signed up to the platform through Google forms, please check your email inbox as we will be sending individual log-in information including password and username. This will allow you to log in to the platform and complete your organizational information in order for us to create your profile.
Once created you can always go back to modify and improve your profile, add new campaigns and update your network on the latest projects and activities.
Welcoming new TADAMON members and growing our community
Since mid-June when we started the open call for CSOs to join our community we have received an overwhelming 300 applications from CSOs.
TADAMON Crowdfunding Academy is going online!
After launching the international aggregated Tadamon Platform in September 2019, with the aim of reaching 500 successful CSOs, tailored awareness sessions for government focal points, regional hubs, and CSOs have been conducted, whilst carrying out more than 70 crowdfunding campaigns - we are going online!
The Digital Crowdfunding Academy will provide your organization with training, capacity building and new skills on how to CROWDFUND! Depending on the Covid-19 situation in each country – capacity building workshops will be organized through a combination of virtual or in-person meetings through local partners, experts and our Tadamon team.
The plan is to organize at least seven Academies in each of our seven priority countries annually, involving at least 100 CSOs each year.
In an effort to strengthen the institutional capacity of the selected CSOs, the IsDB& ISFD have finalized an agreement with the Humanitarian Leadership Academy (HLA)/Save the Children.
Awarding CSOs with grants in MCs countries-join us at National Introductory workshoop for CSOs mapping!
Kickstarting the first round of activities for CSOs, starting from the first of October 2020, we will be organizing a series of seminars to introduce CSOs to join the TADAMON platform. After the seminars, participating CSO representatives should have a clear understanding of the program, mapping exercise, the Tadamon Platform, Upcoming activities (CFA), and how to apply for the Tadamon CSO grant. Grants will be awarded to civil society organizations according to criteria that we will publish in the following weeks on our website - www.tadamon.community
Kazakhstan - October 1st
Indonesia - October 7th
Tunisia - October 12th
Somalia - October 14th
Lebanon-October 21st
Morocco - TBC
Turkey - TBC
Please follow us on social networks to get the link to entry: https://tadamon.community/webinar/webinars
WHO are we?
"We are building stronger communities & helping those less fortunate. Equality, transparency, accountability & development stand at the core of everything we do."
IsDB - ISFD NGO Empowerment for Poverty Reduction Program (TADAMON) is a Program sponsored by ISFD designed and implemented by IsDB and supported by UNDP. Through the Tadamon platform the program aims to improve CSOs (Civil Society Organizations) in 57 OIC Member Countries by providing visibility, funding and knowledge.
WHY join us?
For us, every organization or individual, be their contribution big or small, has the power to make a difference in the lives of those whom it is difficult to reach . And this is the fundamental idea behind #Tadamon.
SIGN UP AND JOIN !
Find us on: Facebook, Instagram, YouTube for frequent updates.
Email: team@tadamon.community
#Tadamon
#TadamonMeansSolidarity
#NGOEmpowerment