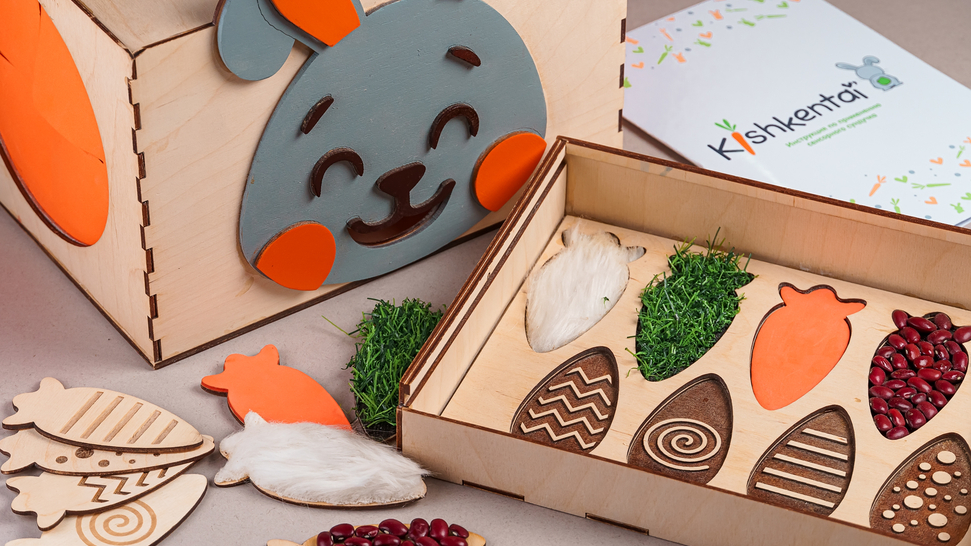 From May to August 2021, 29 CSOs were trained at the Tadamon Crowdfunding Academy in Kazakhstan. The goal of the initiative is to help civil society organizations access alternative sources of funding and connect them with potential partners, donors, and like-minded people.
During the training, national and international experts helped organizations to obtain funding, increase the visibility of their projects, as well as build relationships with donors, partners and beneficiaries.
Even before the Tadamon Crowdfunding Academy was complete, some of the alumni launched their campaigns and managed to raise funding.
Gulmira Parmysheva is one of the Academy participants. A social entrepreneur, founder of the "kishkentai" project, and chairman of the public association "Center for Social Initiatives "Belsen", Gulmira Parmysheva is managing the inclusive workshop, and producing eco-toys for the rehabilitation and correction of special children since 2019.
"I came to social entrepreneurship through personal experience three years ago. During my child's speech developmental therapy I faced many problems: high prices for the specialists' services, the need for an integrated approach, a lack of resources in the state language, long queues in the national free therapy centers, and many others. I understood how important early diagnosis and timely therapy are for children.
I created the first simulators for speech therapy for children at home. We tested them in home settings and practiced with our son every day, and soon enough we began to see the first results. Having believed in myself and the potential of the children, I decided to help other parents as well. This is how the idea of ​​creating the social project kishkentai came about."
A project that began in a studio apartment where production and assembly involved all family members now takes place in an inclusive production workshop in the center of Almaty.
The kishkentai brand currently produces speech therapy, sensory, breathing sets and simulators, and is preparing to produce Shanyraq sensory complex and speech therapy furniture like those already in use by developmental therapists in Kazakhstan and neighboring countries (Russia, Kyrgyzstan, Uzbekistan.).
"In our inclusive workshop, products are created by young people with mental impairments and hearing problems and developmental teachers. We are three years old today, and we confidently call ourselves a domestic manufacturer. My initial need as a mother has transformed into a project of life."
"Funding for the workshop has become especially relevant with the onset of the coronavirus pandemic", - says Gulmira.
During the pandemic, crowdfunding became an alternative source of funding for many nongovernmental organizations. This powerful tool provides more flexible, faster, and more reliable financing without having to go through different financial institutions. But in order to attract funding, one needs to have a fundamental understanding of the principles of crowdfunding. This is where Crowdfunding Academy plays a critical role for CSOs, providing them with the knowledge and training they need to develop the necessary skills to run a successful campaign.
"Participation in the Tadamon Crowdfunding Academy, first of all, coached our team in discipline and growth. The Academy taught us to constantly search for new ways of doing things and how to develop our communications strategy. In addition to professional skills from the strongest speakers, we received the support of a team of mentors who are passionate about our cause. Our mentor Aya was with us 24/7 and supervised us outside the Academy. This has been so valuable to our team. I also want to highlight the training platform, the very detailed program, and comprehensible material. All the homework made us into superheroes," shares Gulmira.
Upon completion of the Tadamon Crowdfunding Academy, several organizations have already successfully completed crowdfunding campaigns for their projects. The training has ended, but the Tadamon team continues to provide support and mentoring to the training participants on their way to the implementation and achievement of the socially significant tasks.