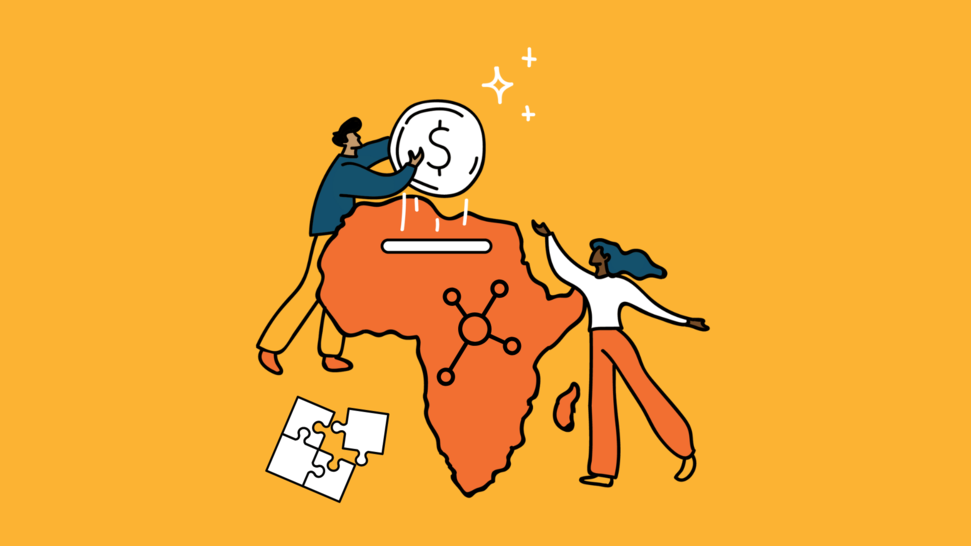 Many would say that Africa is currently in its crowdfunding golden age. As it stands, Africa boasts the highest percentage of entrepreneurs among working-age adults throughout the world (this is true for both men and women). While this is an incredible feat, many talented African entrepreneurs with small and mid-sized enterprises (SMEs) still struggle to scale and grow their businesses.
What is more, crowdfunding has the potential to transform how civil society organizations fund their initiatives and connect to their communities, giving them greater flexibility and new avenues to grow development projects – from opening education centers to regrowing destroyed farmlands. In this regard, crowdfunding in Africa has had a pivotal impact in closing the funding gap and helping innovators across the continent expand their businesses or organizations and realize their dreams.
During our eighth Tadamon Talks, our webinar series following the trends in alternative finance, we brought together several crowdfunding experts who shared their experiences from leading some of the most impactful crowdfunding platforms and organizations in Africa.
In this blog, we will discuss the challenges, opportunities, and trends of crowdfunding in Africa. Additionally, we will break down the fascinating insights mapped out by our keynote speakers Elizabeth Howard, Founding director of the African Crowdfunding Association (ACFA), Patrick Schofield, CEO of Backabuddy, Matt Robert-Davies, CEO of Thundafund, and Kyai Mullei, Entrepreneur and CEO of M-Changa.
Crowdfunding regulation and the ecosystem
In Africa, all crowdfunding (where members of the general public are offered the opportunity to invest, lend money, buy shares, or participate in the profits of a young company) is a regulated activity.
"We're seeing the most progress in East Africa. When I say progress, I mean a realistic chance of having an appropriate, ground-up regulatory framework that has been designed in deep consultation with the crowdfunding platforms," says Elizabeth Howard, CEO of ACFA.
So far, there has been a strong commitment from five East African countries – Kenya, Rwanda, Uganda, Tanzania, and Burundi – to work together to create a harmonized regulatory framework for investment-based crowdfunding. Within Africa, other existing regulatory frameworks for crowdfunding can be found in Nigeria, Angola, Tunisia, and Morocco and a draft framework is underway in Ghana.
Role of the African diaspora
The diaspora has always played a crucial role in sending money to their home countries. Indeed, remittances to African countries often exceed the amount of foreign aid that several African countries receive. Lately, however, the diaspora has the potential to move from remittances toward investment.
This is not an easy task, "putting in place the channels for members of the general public in the diaspora to get their investment contributions to African beneficiaries is extraordinarily hard," says Howard.
Howard believes that crowdfunding platforms are needed in this space to solve these issues. Structures and channels need to be put in place to facilitate compliance with regulations. In fact, many new organizations and crowdfunding platforms based in the diaspora, such as Lendahand, are working to see this come to fruition.
Biggest challenges for African crowdfunding platforms
"I think sustainability is a real issue and that it is linked to regulations to some extent [….] In East Africa, we have some exceptionally good regulators who are very forward-thinking and [focused] on capital market development. [Their concerns are how] to catalyze growth […] and how crowdfunding can fill in the gaps. There are other markets where the focus is on fraud prevention and there's a strong distrust between regulators and market participants. [While] that is historical and justified, it prevents a discussion around development. And I think every regulator has to think about what they're trying to build, not […] only what they're trying to prevent," Howard explains.
As such, ACFA's role in overcoming these barriers has fundamentally been in fostering dialogue and engagement between entrepreneurs and regulatory authorities. Above all else, AFCA's role is to cultivate trust between these parties.
Stay tuned for the second part of this blog series that resulted from Tadamon Talks #8.