by Svetla Baeva, Communications Lead, UNDP
Moroccan center for orphaned children expands thanks to crowdfunding
Saddened by the challenges that women faced on a daily basis in Morocco in the nineties, Amina Ben Abdelouahab, a middle school teacher, set up the Al Amal Women's Association in 1992. At its onset, the association operated out of a modest three-room apartment, rented out in Tétouan, in the northern part of the country.
Along with six other friends, Amina, currently on the board of directors, sought to bring hope and improve women's lives in Tétouan. At that time, women in Morocco struggled with a wide range of issues [1], from high illiteracy rates – in 1998, 46% of women in cities and 62% in rural areas couldn't read – to lack of economic opportunities – women couldn't engage in business or enter into employment contracts. What's more, only 17.9% of girls attended school, and many women and girls faced severe maltreatment at home, or jail sentences and societal stigma for being a single parent.
The situation for women in Morocco continues to be a struggle, but it is organizations like Al Amal that are slowly opening doors.
Using the experience she gained from successfully running a youth club in her neighborhood, Amina intended to educate women and young people, and support their community involvement. Al Amal started out by offering a range of different services to women through various social and economic inclusion programs, including on literacy.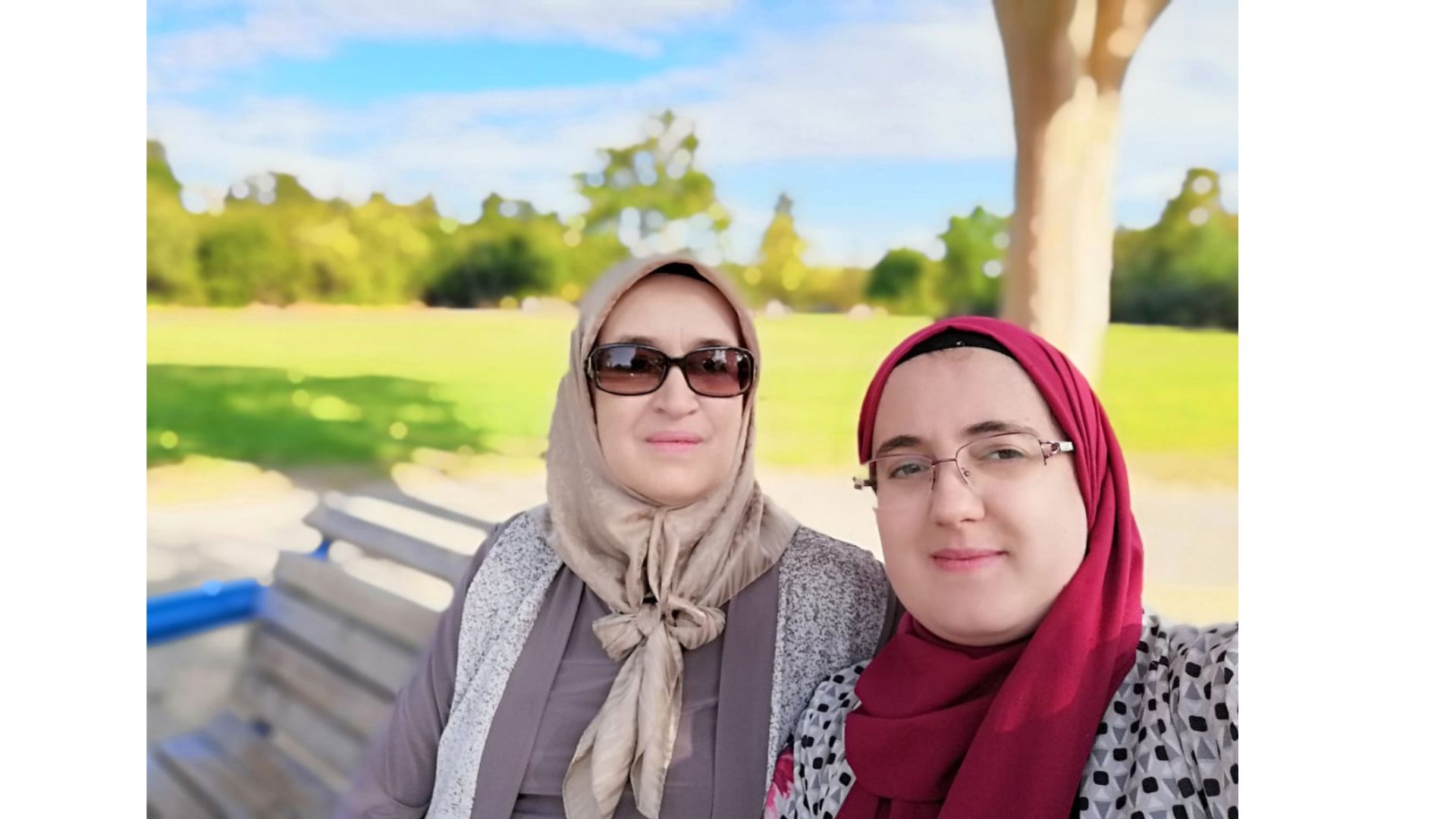 Amina Ben Abdelouahab, co-founder of Al Amal, and Khadija Boukhobza, her daughter
A beacon of hope
"I have been involved [with Al Amal] since I was 7-years-old, from the very start. I was going with my mom all the time," says Khadija Boukhobza, Amina's daughter, who has been a devout volunteer over the years, watching the nonprofit grow, and currently works as a resource mobilization volunteer at Al Amal.
From servicing 30 people, they now work with over 2500 annually. In the beginning, they predominantly worked with women, but they soon realized that to support them they needed to expand their work.
Al Amal is a thriving complex now, consisting of four centers, where they work with young people, children and their caretakers. Their main center, a three-level building, bustling with children, is where they offer one of their core programs for young people – training them to access better job opportunities.
Young people make up more than a third of Morocco's population, however, more than two million have no access to skills training or work. This leaves many feeling marginalized and frustrated, with little hope for the future. Four out five unemployed people are aged 15 to 34. Although the unemployment rate has declined over the past decade, youth unemployment is still twice that of the total population.
This problem has not bypassed the city of Tétouan, which touches the Mediterranean sea. If you sit at the dock, you can look across to Malaga, Spain. At the edge of North Africa, it is one of the two major ports in Morocco. For this reason, it attracts many young people from the rural parts of the country or from other places in Sub-Saharan Africa who are hopeful that they can make a better life for themselves. Some try to make the dangerous trip to cross over to Europe, in search of such a life. Now more than ever, jobs in Tétouan are difficult to come by: "We are a small city, and the main type of economic activities are related to tourism and trade, which have been hit hard by COVID-19," explains Khadija.
Another of Al Amal's core programs supports students at a risk of dropping out, which they have been developing over the last decade.
A recent report noted that 431,876 students dropped out of public schools in 2018 "without obtaining school certificates," which represents 78% of students who had studied at primary and secondary schools. What's more, according to the World Bank, in 2019, 66% of 10-year-olds in Morocco were not able to read and comprehend a simple text, scoring lower than the MENA regional average.
Throughout the years of work, Al Amal has found that orphans are at an increased risk of dropping out due to poverty, as well as educational and social challenges. "If they drop out from school, it is really hard to insert them back into the social and economic environment. We try very hard to keep them in school until they reach university," says Khadija.
"We currently have more than 400 orphans that we support," explains Khadija. They offer a comprehensive developmental approach, which includes educational, financial, health and psychological support, as well as professional training programs for caretakers, usually women.
The rescue project
"Our education program is at the heart of all of our programs because we believe it can have the biggest impact on their lives and their future," says Khadija.
Students at Al Amal
While most other services can be offered outside the centers, the education program cannot be. It is in high demand, but they have limited space and can only accommodate a select 80 students, sometimes 100 if they push the capacity.
"We see that it is not enough. We want to open it up to all of them – to any one of our orphans that needs educational support," tells us Khadija.
So to further expand their work, they dreamt of building a fifth center – that's how the Inqad ('Rescue') project was born. The new center would offer support specifically to orphaned students who suffer from a range of psychological and social issues that impact both their wellbeing and education.
With the help of a magnanimous benefactor, they first purchased the building for the new center, where they would focus only on offering educational support programs for orphans. Then, as a result of their participation in the Tadamon Crowdfunding Academy, they launched a crowdfunding campaign on Launchgood and raised over $70,000 to renovate the building.
Khadija's eyes light up when we start discussing crowdfunding. "I heard about crowdfunding back in 2012 for the first time. I wanted to learn more and try this alternative finance mechanism. But, unfortunately, back then, it was not legal to do this type of financing in Morocco," explains Khadija. This changed in February 2021, when the government enabled crowdfunding as a legal way of financing.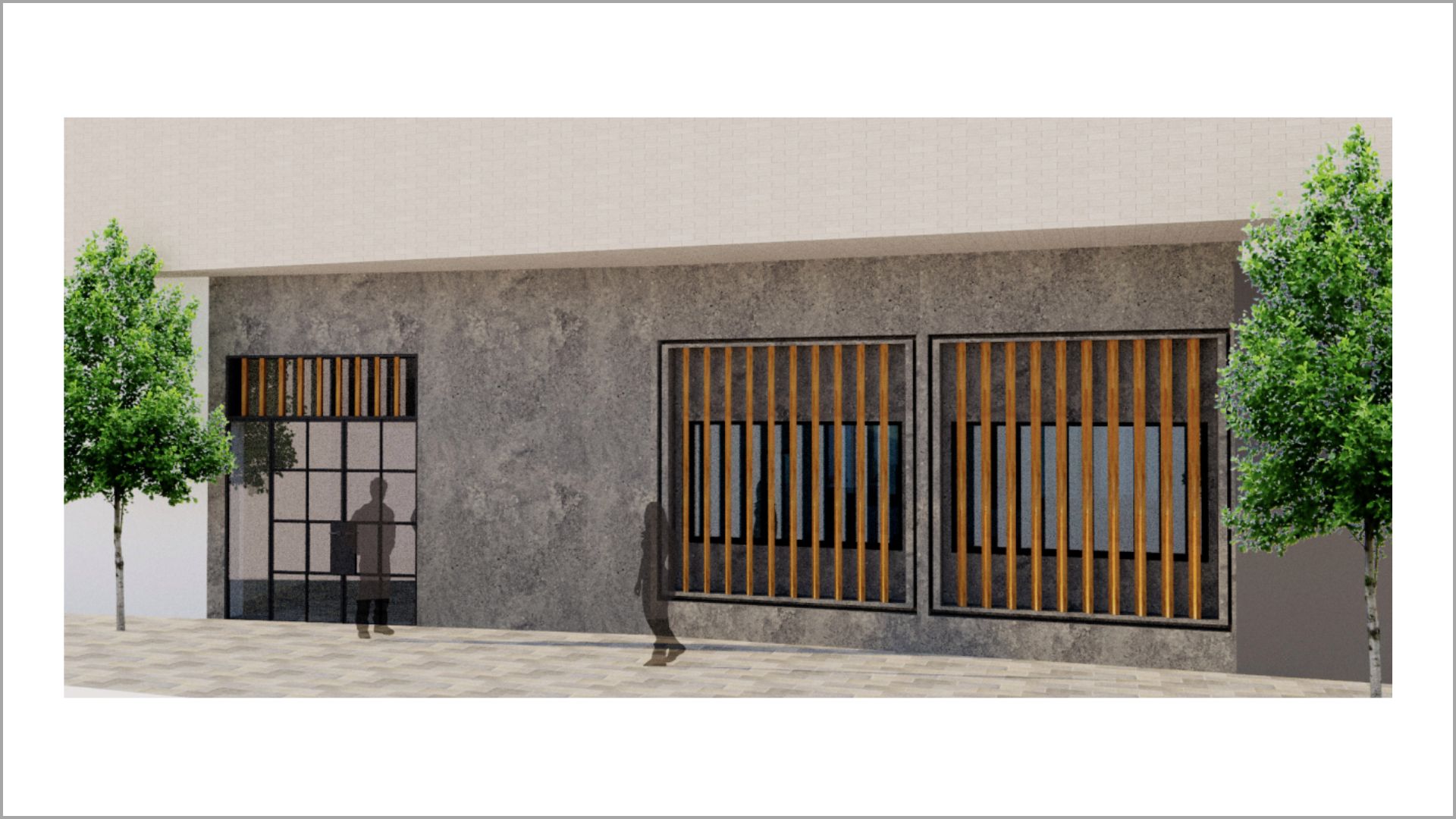 The architectural project designed for the new educational center
With the crowdfunding enabled funds, now the renovations are underway and soon the new center will open doors. The modern educational center has two levels – the basement consists of a large space, which includes a multipurpose room, with a beautiful stage, where you can already picture future theater plays and shows being performed. The first floor, on the other hand, has several classrooms and a computer lab.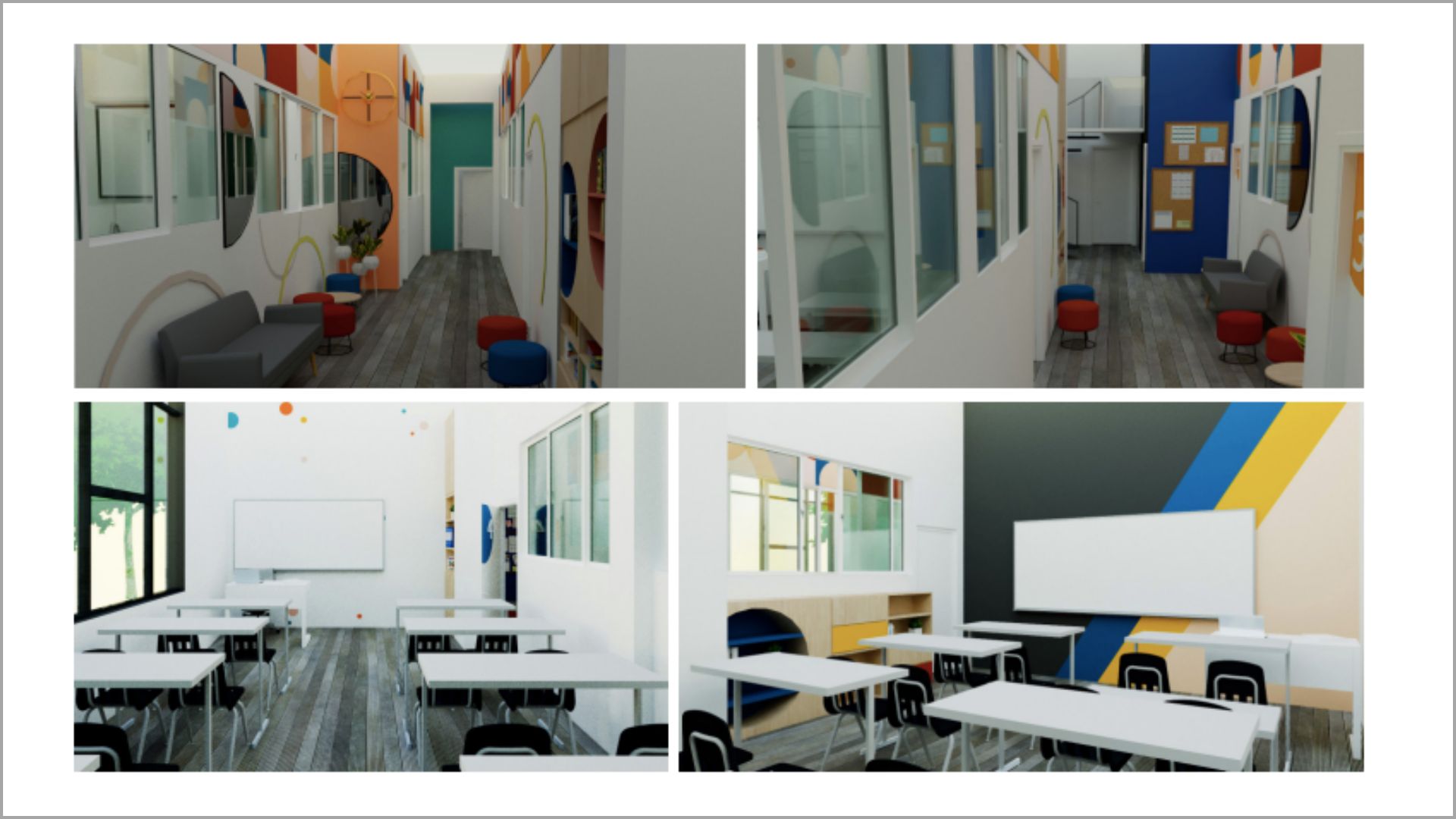 When the 400-square meter center is ready, they will be able to work with at least 200 children, aged 8 to 18, helping them get back on track and facilitating their professional and social integration. They will provide support on key subjects and educational activities to enhance the children's learning and develop their personalities.
The rescue project will also give widowed mothers an opportunity to develop their educational methods, so that they can continue their children's progress made at the center.
From TV shows to new volunteers to game changing partnerships
With over 720 individual donors, the crowdfunding campaign helped Al Amal land their first major interview for one of Morocco's leading TV networks. "We never dreamed of getting access before," says Khadija.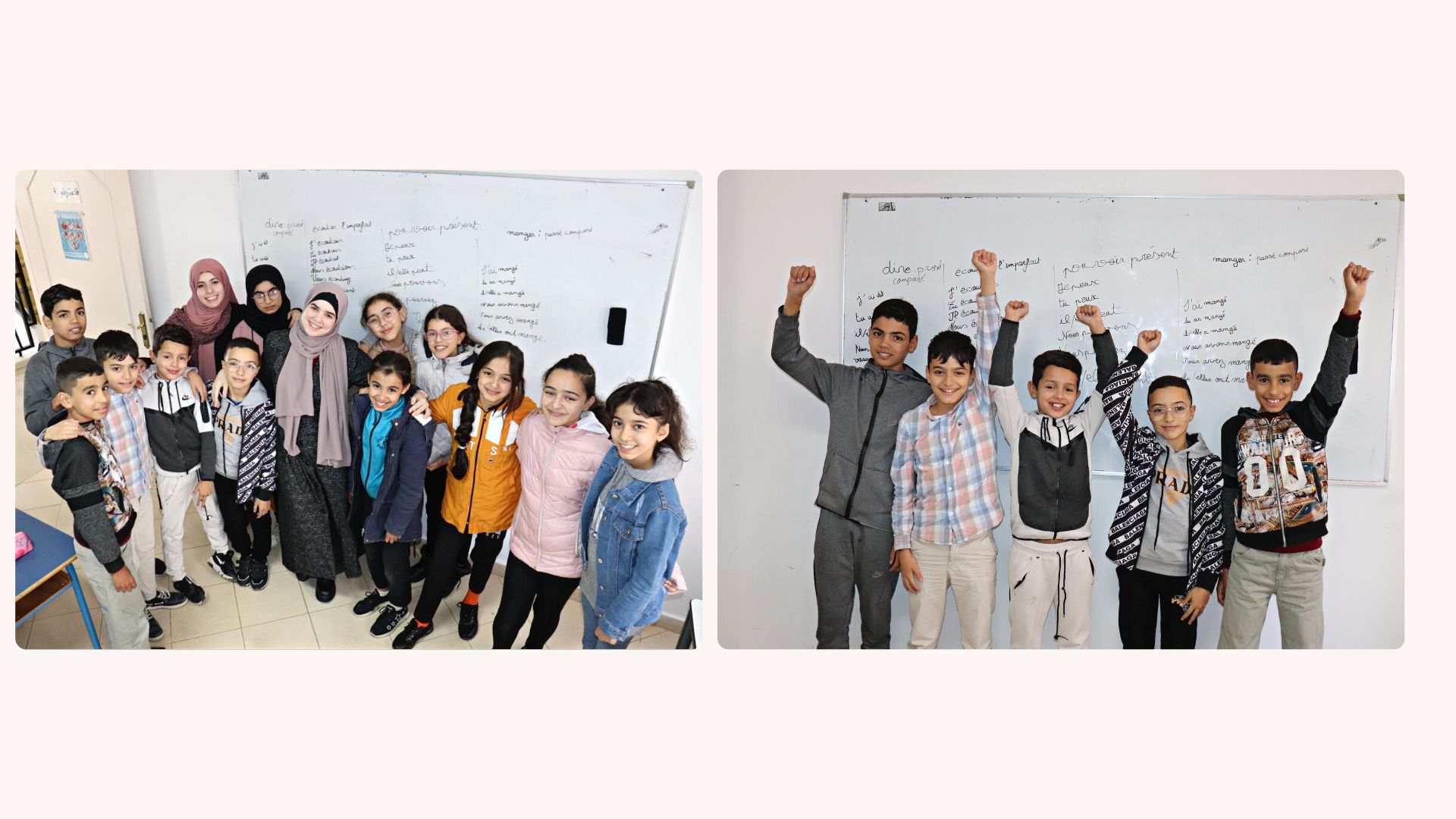 Children attending Al Amal's support classes
What's more, the campaign has given them more than just a financial boost. Nour, a full time student at the Department of Physics at the University in Tétouan, heard about the program when she saw the crowdfunding campaign on social media. Impressed by the association's work, she decided to volunteer, teaching French every Sunday. "My favorite moment is when I see the children's smiles when they tell me confidently that they've gotten good grades on their tests," she says.
The added visibility for the organization has also led to two major partnerships – one with two teacher associations that are offering teaching support and access to their large teachers' network, and the other being with Book Mania, an e-learning platform that will provide students free access to classes and support.
But large organizations have not been the only ones touched by Al Amal's work. Many have pledged monthly support for individual children in the form of small donations, one of Morocco's famous bakers and cake designers even reached out to offer special 'How to make cakes' classes for the widows.
Education is the key to unlocking the world
Most of the kids that visit Al Amal are already enrolled in public school, but they come from impoverished neighborhoods. The orphans enrolled in their programs are usually paternal orphans, meaning that either their father has passed away, abandoned them, or is serving a life sentence in prison. This often leaves the parenting to the mother, or in some cases the grandmother or aunt, which aggravates the challenging economic and social situations they already face.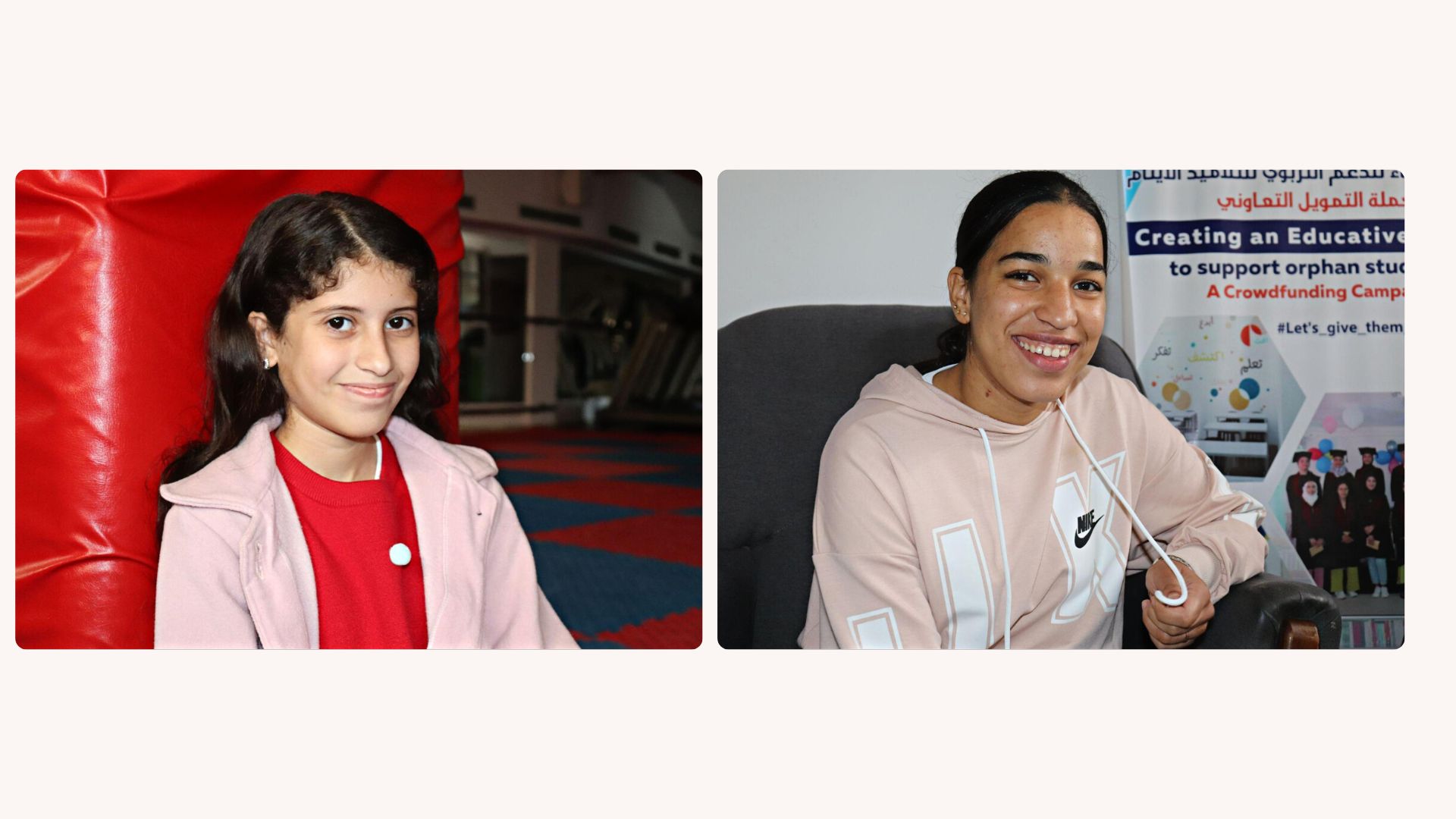 On the left is Aya and on the left – Huda, both regular visitors at Al Amal
Aya, who is 13 years old, is one of the children that has benefited from Al Amal's education programs. Aya has had difficulties in middle school – facing bullying, ridicule and put-downs because of her petite physique. She began to dread waking up every morning to go to school, which affected her performance and grades. Every week since 2021, her older sister accompanies her to the center so she can take additional classes in French, Arabic and mathematics. Finding support and friendship, Aya has been able to overcome her shyness and gradually gain the self-confidence she needs.
Huda is another regular visitor. She is an orphan, and has six brothers and sisters. Her mother works hard to take care of them, but cannot always find regular work. They live in a modest house, but Huda prefers to stay away from home because it gets too crowded and loud. She's 16 years old, but still in middle school because she's had to retake the same grade three times. Huda has been visiting Al Amal for four years now – she values the support she's gotten from the educators, who have helped her deal with her anxiety and attention problems. She's made visible positive progress and is on the road to completing her grade successfully this year.
The educators who work at Al Amal don't just teach – they teach by playing. "It's not really the traditional classroom that you can expect to see in public schools in Morocco," says Khadija. In addition to the main classes, they also have parallel activities such as theater and sports.
Mohammad, a middle school mathematics teacher at a private school, has been volunteering for the past three years, working between 4 and 5 hours every Sunday. He teaches mathematics and has noticed a remarkable improvement in the children's level since many of the children come to the program with substantial learning difficulties.
Al Amal's programs are not only about making progress at school; The bonds and friendships that children form with their peers and educators are life changing.
"You have replaced my father, whom I have never seen before," says one of the children to Mohammed.
Al Amal, which means hope, really does bring hope back to children's lives.
Learn more about Al Amal's work and support them.
The Tadamon Crowdfunding Аcademies are sponsored by the Islamic Solidarity Fund for Development (ISFD), managed by The Islamic Development Bank (IsDB) and implemented by United Nations Development program (UNDP).