Heleena De Oliveira, Innovations Intern
A fight to save the forests of Indonesia
The importance of Indonesia's forests to its indigenous community, both historically and presently, has been extensively documented. Indigenous communities, who make up about a quarter of the country's population, depend on the forest and the environment for all of their needs – food, water and shelter alike. [1]
Some forests in Indonesia are located within the territory of Customary Law Communities and are managed by indigenous communities according to their local cultures and customs. There are several definitions for this term, but generally it is used to describe a group of indigenous people whose members still live on their traditional territory, and maintain a prevailing system of law that is abided by its members, and who live off the forest and depend on it for their daily needs. [2]
Rantau Kermas is one of five villages that have been designated as the Serampas Customary Law Community. The other four villages are Renah Alai, Lubuk Mentilin, Tanjung Kasri and Renah Kemumu.
Long before obtaining the Customary Forest Decree, the people of Rantau Kermas have for generations protected and preserved the forest using traditional knowledge passed down through intergenerational teachings of forest management skills.
These customary rules are determined and obeyed by all communities. Amongst the people of Rantau Kermas Village, this commitment is demonstrated through the imposition of sanctions on those who break the rules; such sanctions include fines of 20 bushels or rice, 1 goat and IDR 500,000 (about $32 USD) in cash. The existence of customary forests is very important for the community, especially to prevent the danger of ecological disasters. These forests are often located in areas with steep, hilly topographies and many tributaries with swift flows; devastating floods, soil erosion and landslides could easily occur without the forest and the trees that inhabit them.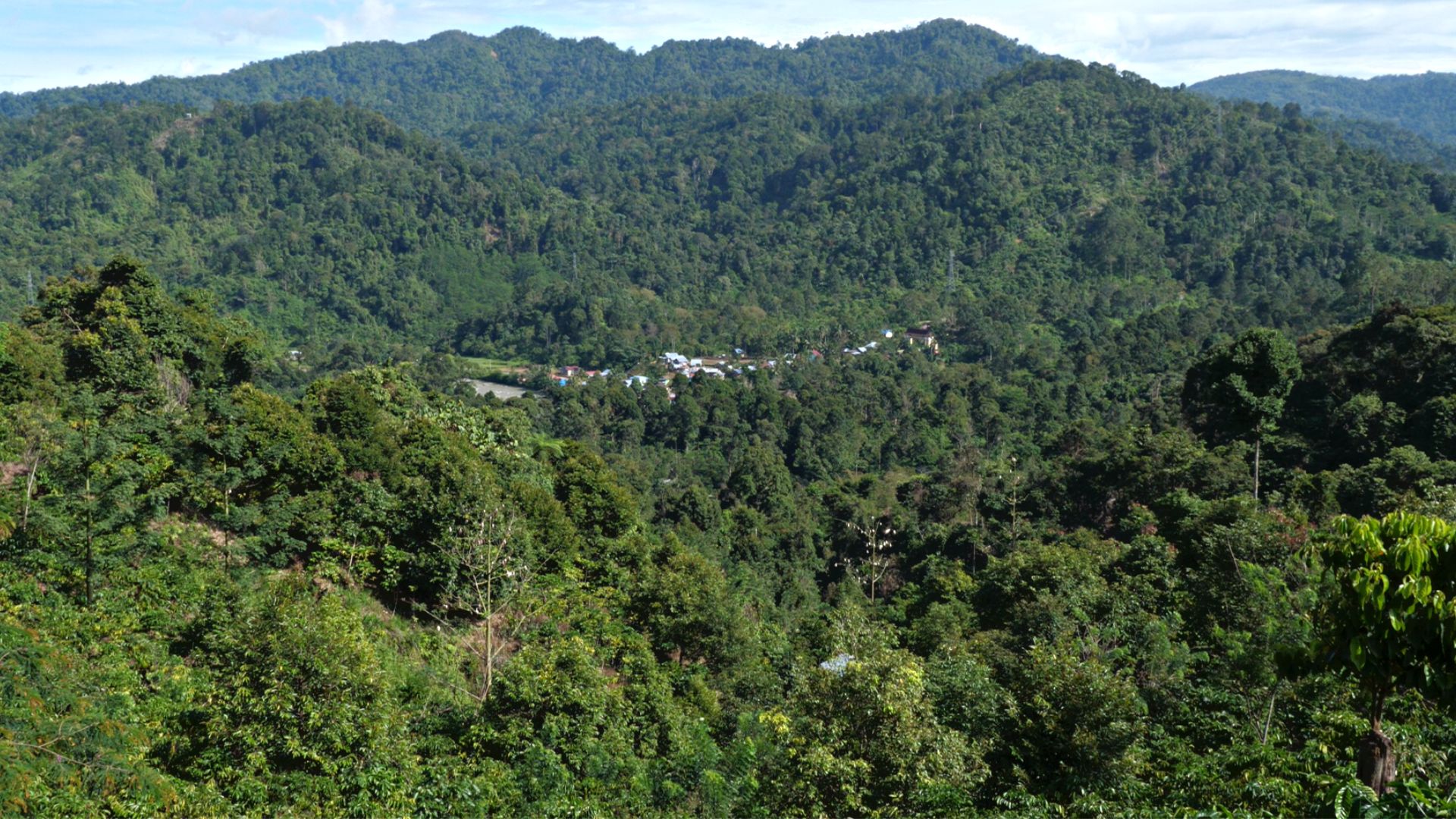 An Example of A village located in steep, and hilly topography
Despite this fact, in recent years forests in Indonesia have been demolished at alarming rates. In fact, deforestation in Indonesia continues to be a major problem for the country and the world. This is especially true given that the forests of Indonesia are the third largest tropical forests in the world, and one of the greatest biodiversity hotspots on Earth. [3] And yet, these forests are still regularly destroyed to make room for palm oil plantations, for timber, and often as a result of illegal logging.
Mobilizing the youth in the fight for conservation
Thankfully, there are organizations working towards a solution to this problem. One organization who is making a big impact is Hutan Itu. Their approach is unique and innovative in its own right; their goal is to engage with the youth of Indonesia in the fight for conservation.
We met with Dini Setyorini, coordinator at Hutan Itu, who gave us insight into their vision.
"We believe in the power of positive messages to foster a sense of love for the forest that has a big impact on our lives. Our movement is to increase young people's love for Indonesia's forests by raising their awareness [on the important roles] of the forest. We hope that young people will build their own initiatives that fall in line with our organization's mission," says Seytorini.
Seytorini explained that many Indonesians are still skeptical about conservation efforts and whether change can actually be achieved. Indeed, the conversation around conservation leaves much to be desired, with little publicity and attention being given to the issue and the ways that it affects Indonesia's environment and population at large.
As such, Hutan Itu joined the Tadamon Crowdfunding Academy in 2021 and subsequently launched the Forest Ranger Campaign to raise funds and awareness for forest rangers tasked with protecting ten of Indonesia's forests through community-based social forestry programs. Through donations made to the campaign, donors would effectively "adopt a tree" which would ensure the continuity of the social forestry programs undertaken by the rangers.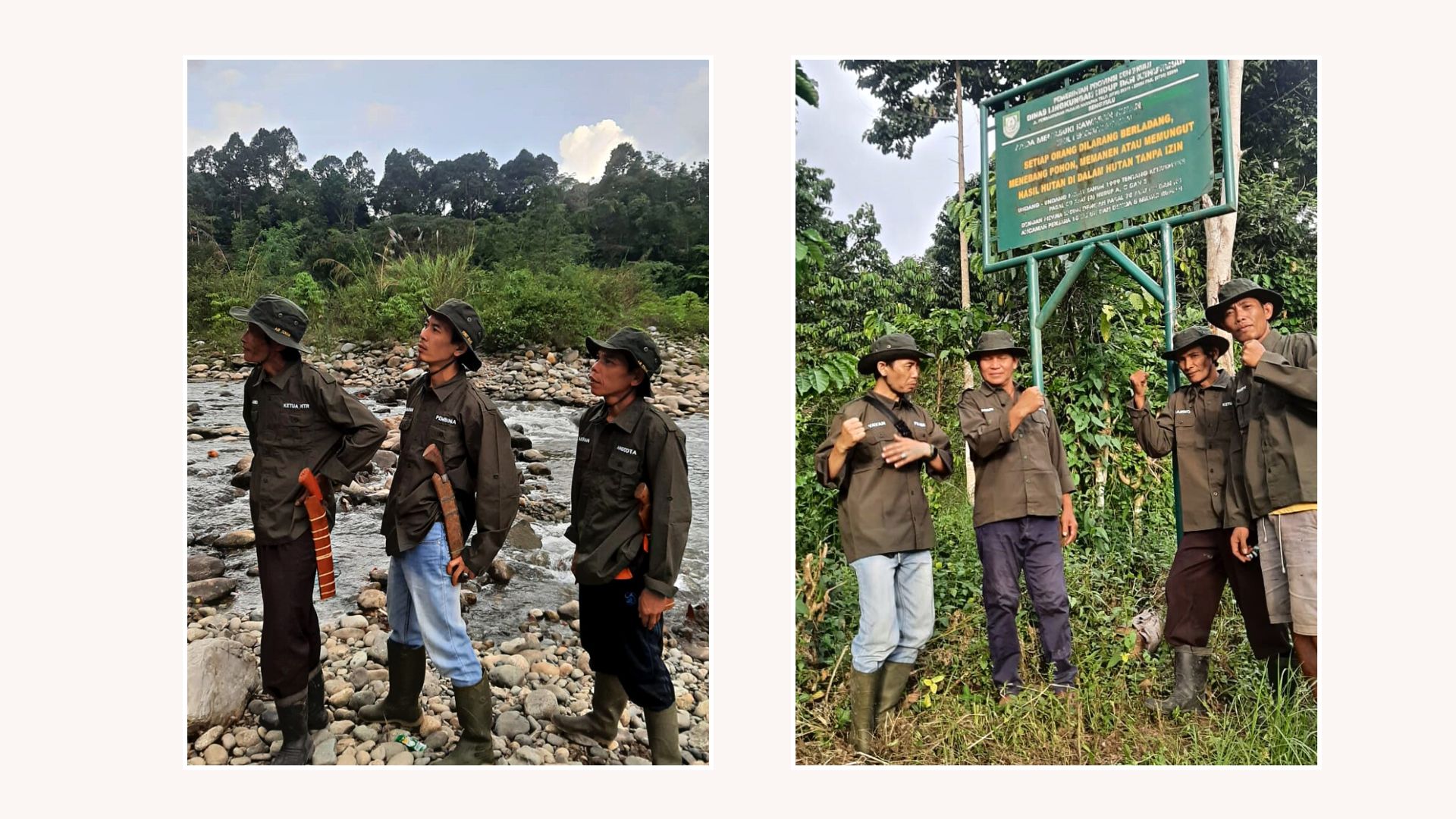 Indonesia is dominated by young people, in fact, the youth of Indonesia (ages 16-30) comprise about 64.92 million people. It was thus imperative that Hutan Itu's campaign target the youth, namely those living in urban areas of Indonesia far away from the forests. In doing so, Hutan Itu recognized the authority that the youth of today have in instilling positive change in society and their instrumental role in bringing awareness to environmental issues that concern us all.
So with the help of their mentors at Tadamon, they established a solid strategy to engage the youth of Indonesia with their campaign.
"Before we delivered our call-to-action for young people to adopt trees, we shared information through various forums [which we thought young people would find the most engaging] such as social media," explained Seytorini.
These efforts were not in vain. To date, Hutan Itu has achieved impressive results, approximately 450 volunteers have joined their youth hub, hailing from different regions across Indonesia. Additionally, they have managed to raise over $16,000 USD through their crowdfunding campaign, a sum donated by almost 2000 individuals.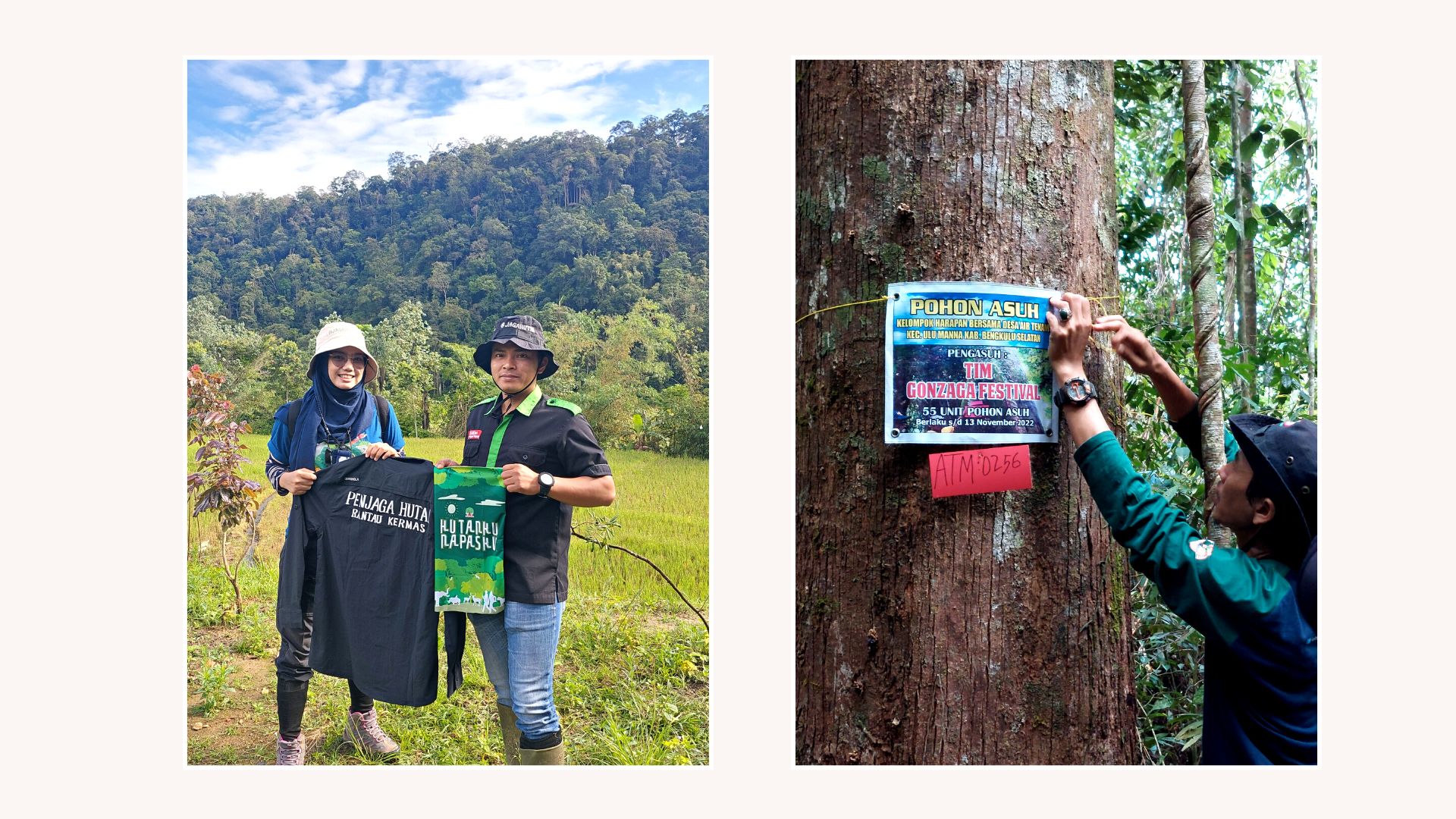 Engagement of Indonesian Youth
This money alone has been used to buy equipment for the forest rangers such as uniforms, and adopt over 400 trees. Their crowdfunding campaign is ongoing, in the hopes that they will be able to protect at least 50,000 hectares of forest by 2026; to reach this goal they will need to raise IDR 500 million (about $32,000 USD) in total.
Creating synergies to protect the forest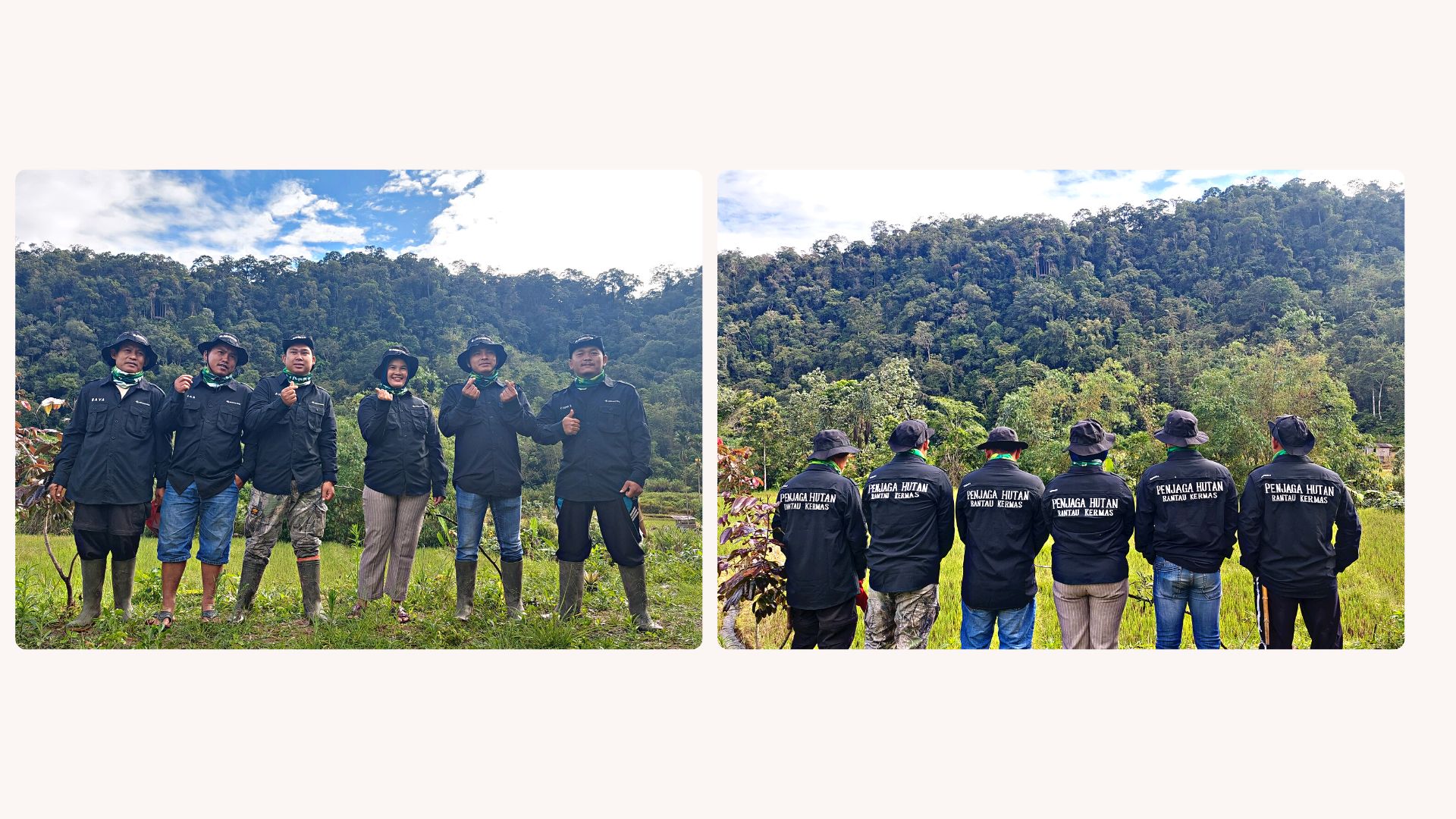 "We want young people to feel connected with the forest. We want them to connect with individuals like Pak Sarno."
Pak Sarno is one of several forest rangers who has dedicated his life to preserving Indonesia's forests. He is 51 and a migrant who moved to Air Tenam village, located in South Bengkulu, in the 1990s to cultivate the fields there. Air Tenam, with its cool air and fertile soil, was a popular destination for villagers from other regions to settle in and grow their crops.
The village once existed in total harmony with the forest and all living things in it. The words 'air' and 'tenam' in Indonesian translate to water (or river) and meranti tree. It was inspired by the scores of towering meranti trees that once grew all around the area. Unfortunately, this is no longer the case – many of these beautiful trees were cut down as a result of land conversions which continued up until the 21st century.
Pak Sarno is one of the rangers that have been working with the community in Air Tenam as well as nonprofits to establish the social forestry program. But there are others like him – men, women, and even children who have taken up this important role.
One young man named Arif is just 22 years old. Since 2021 he has worked as a forest ranger in Rantau Kermas Village. It is safe to say that Arif is different from many people his age. Unlike his peers he works as a farmer during the day, tilling the soil on a small plot of land. In the evenings, he patrols the forest to ensure that no illegal loggers enter – a task that has proven dangerous for many rangers before him.
Another woman, Bi Nyai, is a forest ranger at the Masigit Kareumbi Conservation Area in West Java. She is a 49-year-old mother with two children, and she has been a ranger for the past six years. Seytorini tells us that one of Nyai's many roles includes planting tree seedlings and nurturing them so that they grow tall.
"She always looks after the tree seeds [as if they were] her own children," Seytorini says. "Because Bi Nyai hopes that one day the tree seeds will actually become trees that can protect her and her family from floods and landslides."
These are the kinds of people that Hutan Itu have supported through their campaign, they are not just 'forest rangers', but mothers, fathers, daughters and sons, all of whom depend on the forests for their survival.
Shoot for the canopy
The academy taught the Hutan Itu team the importance of storytelling and the impact that humanist narratives can have in encouraging people to support one's cause, for which they are grateful.
Indeed, as a result of their moving story, their campaign was featured in media publications/outlets, that sought to promote their movement. Additionally, their campaign caught the attention of retail company UNIQLO, interested in supporting sustainability and environmental initiatives. As of July 2024, Hutan Itu will thus partner with UNIQLO as well as their conservation partners KKI Warsi, to amplify their awareness campaign through UNIQLO's customer network. Their joint Forest Adoption program will be implemented in Lemo Nakai village forest in North Bengkulu, Sumatra. It will protect a forest area of ​​1,000 hectares through community-based PES (Payment for Environmental Services) activities, and public awareness campaigns. They are hopeful that in doing so they will come closer to achieving their goal of protecting 50,000 hectares of forest by 2026.
Hutan Itu has already demonstrated their commitment to a cause close to their hearts, and they can only go up from here. Thanks to the money raised from their campaign, and the partnerships created through it, Hutan Itu can expand their work to protect forests across Indonesia, one tree at a time.
Learn more about Hutan Itu's work and support them.