Annika Cobb, Innovation Intern
BerekeCity: Breaking the cycle of poverty through sports
If you go to BerekeCity, located in the Almaty region in Kazakhstan, you will find a community of families who are striving to make a better life for themselves. Founded in 2010 by Bagdash Suleimenov, BerekeCity is a charity housing project for vulnerable communities.
At first, it functioned as a charity that provided food and cash payments to families at risk of poverty and engaged in small capacity building projects fostering economic resilience to help people take control of their lives. But in 2016, the organization took on a more ambitious role of providing accommodation to large families, usually with four or five children, or families with children with disabilities or who have experienced domestic violence. Currently, the charity houses 59 families, 167 children, and overall 270 people in its attempt to break the cycle of poverty.
The trials and triumphs of crowdfunding
Through their crowdfunding campaign, resulting from their participation in the Tadamon Crowdfunding Academy, BerekeCity was able to raise more than USD$9,800 to build an outdoor playground for the children of Bereke. The campaign, which officially lasted from the late spring through the summer of 2021, collected about USD$4,000, but they kept the campaign open over the next year and a half. This allowed BerekeCity to eventually raise the funds, equal to USD$10,000 to build a workout center and playground – the first in the town.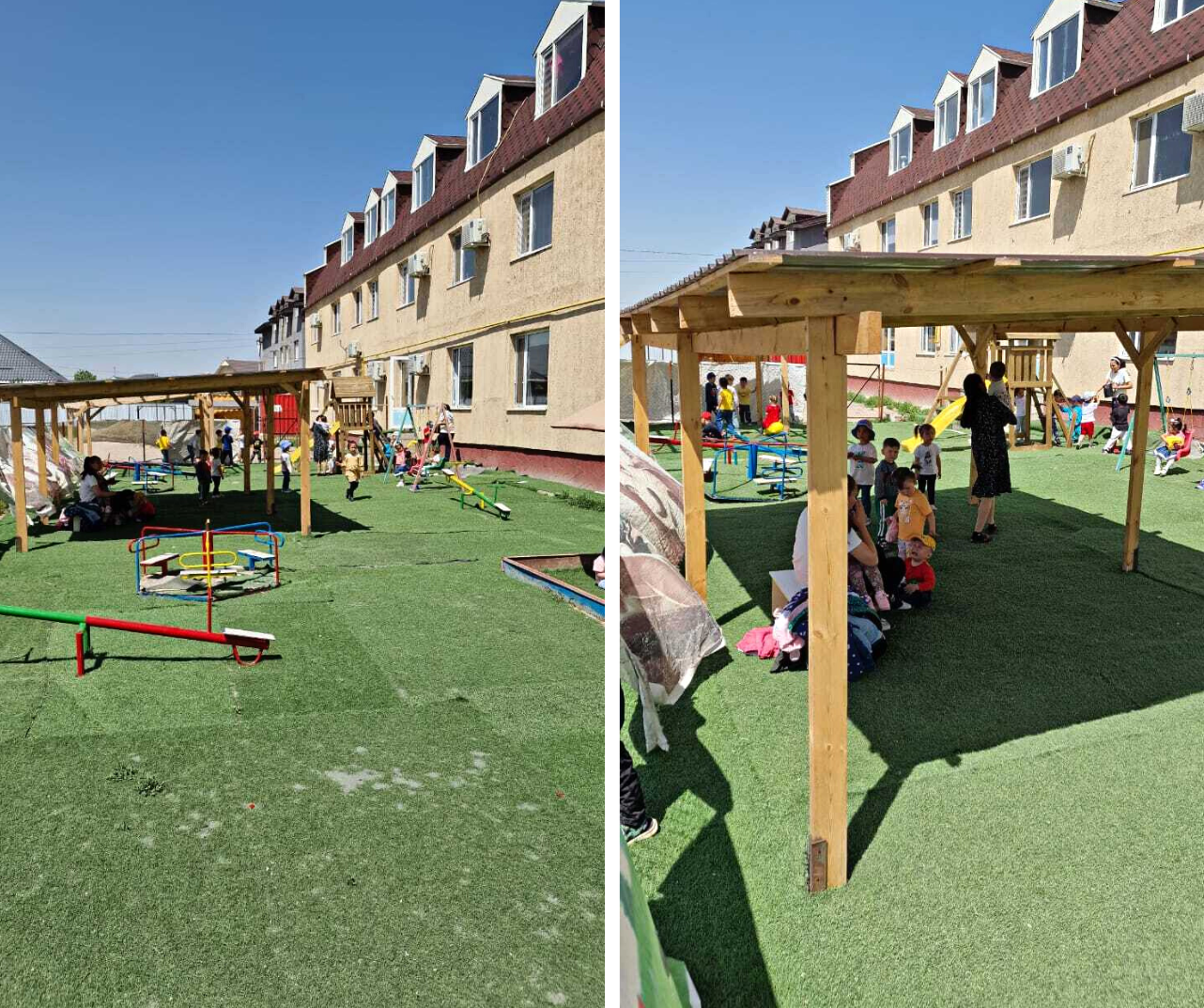 Children playing at the new playground at BerekeCity
Crowdfunding posed some challenges, especially since the culture of donation is still something new in Kazakhstan, but the Tadamon Crowdfunding Academy provided useful networking and marketing skills training. Influencing people to engage with the issue of the campaign was difficult, and they noticed that campaigns with more technological elements were more attractive to donors. Arailym Ashimova, a former employee who was involved in the crowdfunding campaign, explained: "Because [we were raising funds for] children's playgrounds, which are actually the responsibility of the municipality, people wondered, 'Why should I donate if Almaty has to do it?'"
BerekeCity eventually engaged the Kazakh diaspora, obtained donations from businesses, and gained publicity through Kazakh bloggers. One key takeaway from the academy and their campaign experience is that networking and marketing skills were crucial for helping them stand out and raise awareness about their work. Showcasing their activities on social media regularly, such as their posts on Instagram, was a strategy that helped them attract and gain the trust of donors. Companies also donated in kind supplies such as bookshelves and paint to BerekeCity.
Empowerment through sport
With its new playground and workout center, BerekeCity now empowers children through sports, providing them with a space for play. "A lot of kids come from rural areas where they simply do not have any places for leisure," says Arailym. BerekeCity also offers martial arts classes as a way to engage children and support their development. After a few months of martial arts training, Bagdash noticed improvements in the childrens' skills and confidence – some of them have even gone on to participate in and win local tournaments. Without BerekeCity, these children would not have access to sports classes. The team sees the immense value of providing recreational spaces and activities to children because of the positive impact it can have on them when they're young.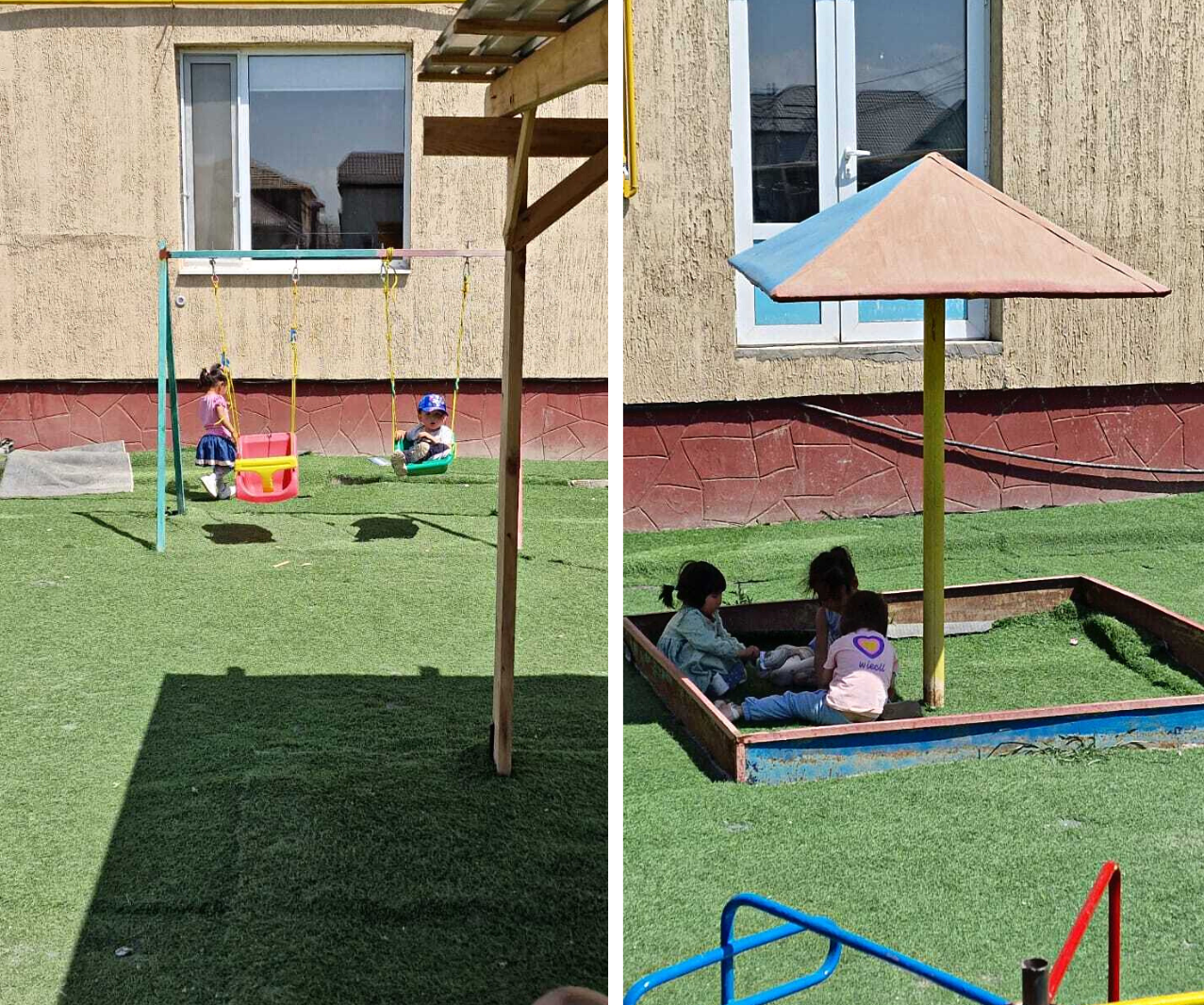 Children enjoying the swings and play pit of the new playground
According to World Bank figures, more than 15.5% of Kazakhstan's 19.7 million population live in poverty. The poverty line is set at 70% of the living wage -– about $80 a month in 2022. To tackle this, BerekeCity also provides social services and assistance through government programs to support the families after they leave their accommodation to eventually break the cycle of poverty within their community. As Bagdash explains, "the basic point is working with the mind. Because, you know…in the first phase of the program, the main goal is to fulfill their basic needs for food, accommodation, safety, security. It is only after that that they can think about the programs that would help them."
By covering the basic necessities of these vulnerable families, BerekeCity is able to offer them a stable environment where social workers can work with them directly to address concrete problems or concerns arising from their precarious situation. Following this intervention, people are more capable of taking steps to improve their life by finding long-term accommodation and economic opportunities, as well as applying for the right government programs, with the support of BerekeCity.
A greater impact
BerekeCity remains a critical organization for fighting social inequality, which has been a trigger for social unrest in the region. Recalling the 2022 unrest in Kazakhstan, Arailym explains, "people who earned way less than is essential or enough to live a proper life…they started robbing the shops and banks. They ruined almost all the facades. [...] And that shows that our governmental programs for fighting poverty do not work properly."
Currently, the government's assistance for families at risk is either hard to access or insufficient to raise people out of poverty. Moreover, there is a lot of distrust among people towards the government. But this is changing – through its pilot project, BerekeCity has inspired the government to implement similar social programs across Kazakhstan that provide people with basic entrepreneurial training and resources.
BerekeCity's impact is much larger than just the immediate relief they provide to families. Among others, they work with women who have experienced domestic violence or are left with no resources – one of them is Kundyz. Life was going well for Kundyz – she had a sewing business and a family with three children. During Kundyz's fourth pregnancy, her health started deteriorating rapidly, and she lost her vision. Then, Kundyz's husband left the family, leaving them without a home. Kundyz and her children found accommodation at BerekeCity, where she gave birth to her fourth child and continued sewing clothing. Now, BerekeCity supports Kundyz and her family by promoting her sewing business and fundraising for Kundyz's eye surgery. Without BerekeCity, families like Kundyz's would not have anywhere to go in times of hardship. The project prevents people from slipping further into poverty and provides them with resources to improve their lives.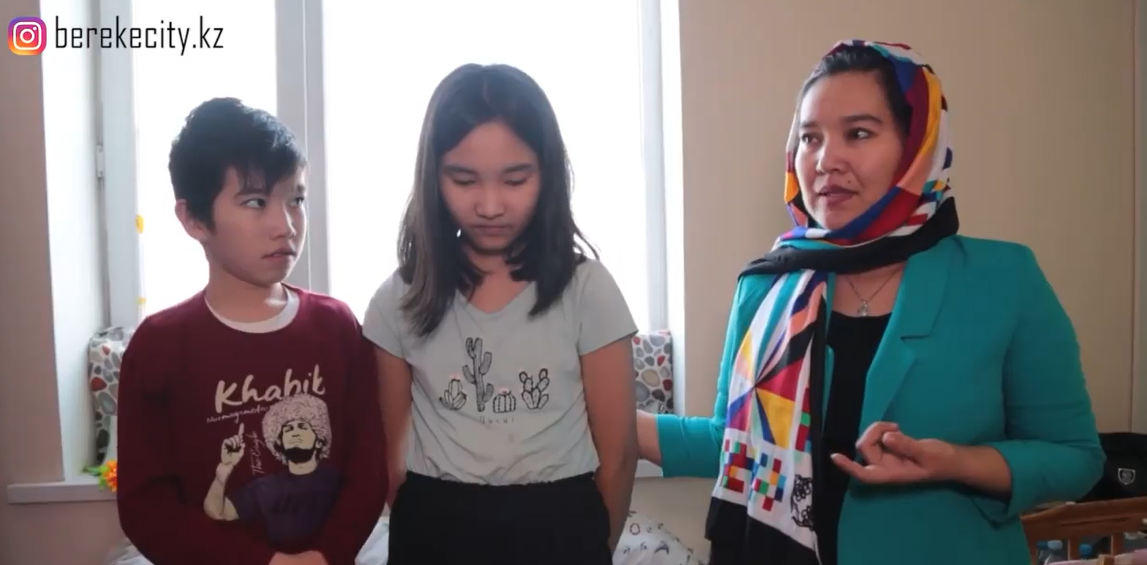 Kundyz and her children at BerekeCity
Embracing a holistic approach to eradicating poverty, BerekeCity, which also means 'prosperity city', continues to provide housing and a wide range of services to low-income families to get them back on the path of independent and sustainable living.
Learn more about BerekeCity's work and support them.
THE TADAMON CROWDFUNDING АCADEMIES ARE SPONSORED BY THE ISLAMIC SOLIDARITY FUND FOR DEVELOPMENT (ISFD), MANAGED BY THE ISLAMIC DEVELOPMENT BANK (ISDB) AND IMPLEMENTED BY UNITED NATIONS DEVELOPMENT PROGRAM (UNDP).