Overview
Help us start Künde cafe - the first inclusive and socially responsible cafe in Astana, Kazakhstan.
Künde - means 'every day' from Kazakh, it carries our philosophy of sustainable and effective altruism: to make a difference, to be the change every day and always.
Künde cafe - a place where people with mental disabilities, our trainees - now employees, will be able to develop their sense of self-worth and find their place in the community!
Künde is an innovative pilot project where people with mental disabilities can rehabilitate, train, socialise and ultimately become more included in the society.
It was started a year ago together with the Medical Center of Mental Health of Astana on the basis of therapeutic workshops for people with special needs. The therapeutic workshops range from art therapy to wood working and are a place where people with mental disabilities, their parents and professionals come and work together. Parents of people with special needs and psychologists have formed an NGO Bakhyt (which means happiness in Kazakh) to help people with special needs have equal rights and opportunities to pursue their own happiness.
Künde is a big family consisting of people with mental disabilities, their parents, friends and professionals from Medical Center of Mental Health, Nazarbayev University students and passionate restaurant professionals. After working for more than a year with people with mental disabilities (our teammates), we are taking the project to the next level by opening a Künde cafe!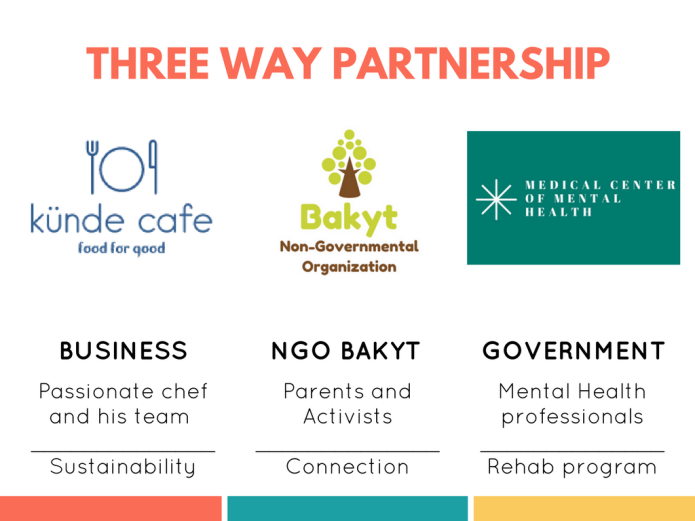 The Problem We Are Solving:
There are around 600.000 people with mental health illnesses in Kazakhstan. Most of our teammates (it's how we call our trainees and employees) did not have any job before Kunde, however the problem is much larger than that. Most people with mental health disabilities have less legal rights than convicted criminals just because of their diagnosis, which in combination with social prejudice and fear creates a system where a person is trapped. In Astana city alone, the capital of Kazakhstan, only 3% of people with disabilities have jobs and for people with mental disabilities this number is much lower. We fight to provide them equal work opportunities, to enable them to be a part of the society and to pursue happiness.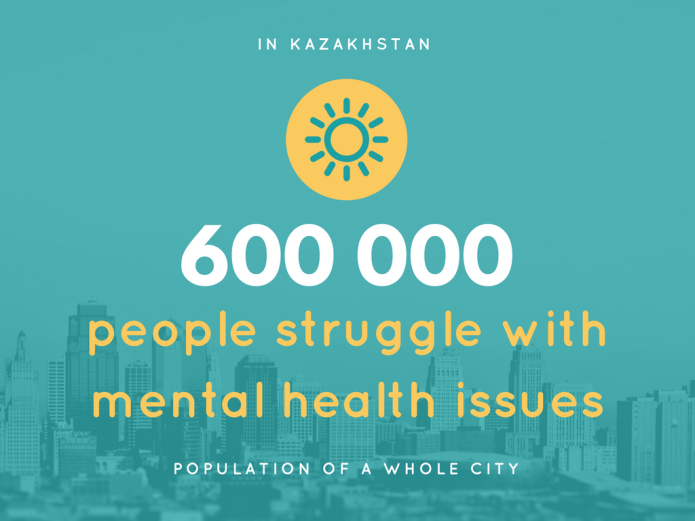 ​
Why A Restaurant And Not Only A Workshop?
So far we organised many charity and fundraising events to help people and families with mental health disabilities, however they don't seem to change the situation in the long run. Workshops are only one step to rehabilitation, next step is social interaction and closed workshops don't offer that.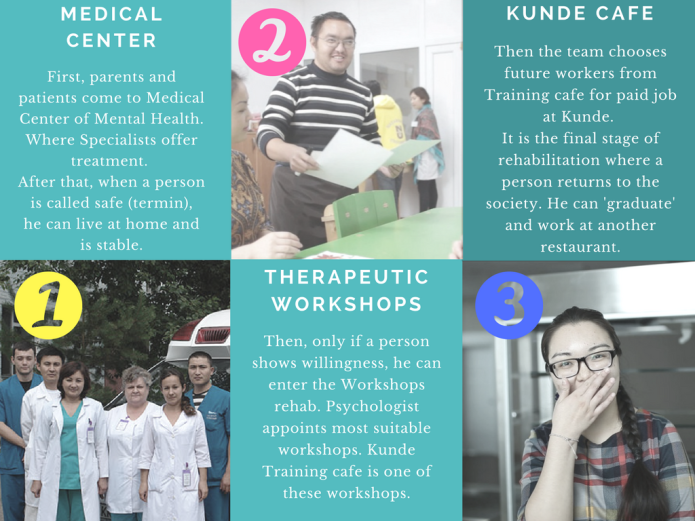 Working at a cafe gives a great combination of social interaction, self-sustainability skills (cooking, cleaning) and work therapy. Last but not least we are trying to solve the social stigma that people with mental disabilities have to face every day of their lives through inclusion.
A social cafe is the most effective tool of solving problems of mental health in the world. It is a tested and working model, there are hundreds cafes and restaurants around the world employing people with special needs from China to the U.S.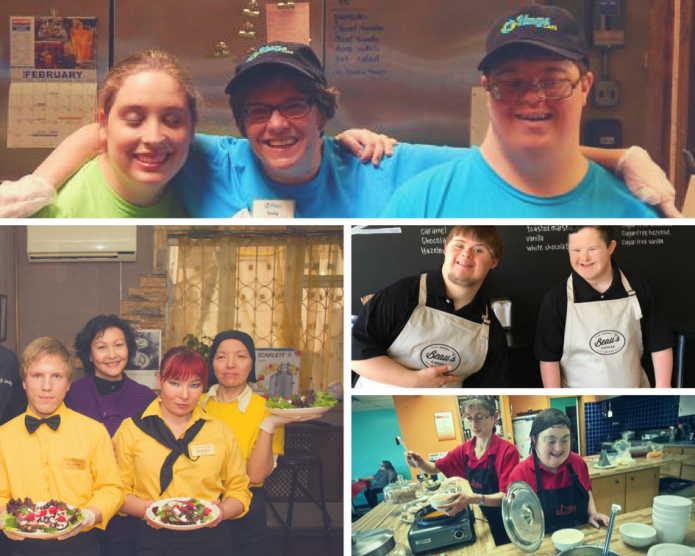 We studied and learned a lot from Training cafe in Almaty and Hugs cafe in Texas.
Ruth, founder of Hugs cafe even became our mentor, inspiring us to aim higher. The difference at Kunde is that we are a pilot project in Kazakhstan that challenges the stakeholders and decision makers in the government to change the regulations and offer more support to people with mental disabilities to help their inclusion in the society.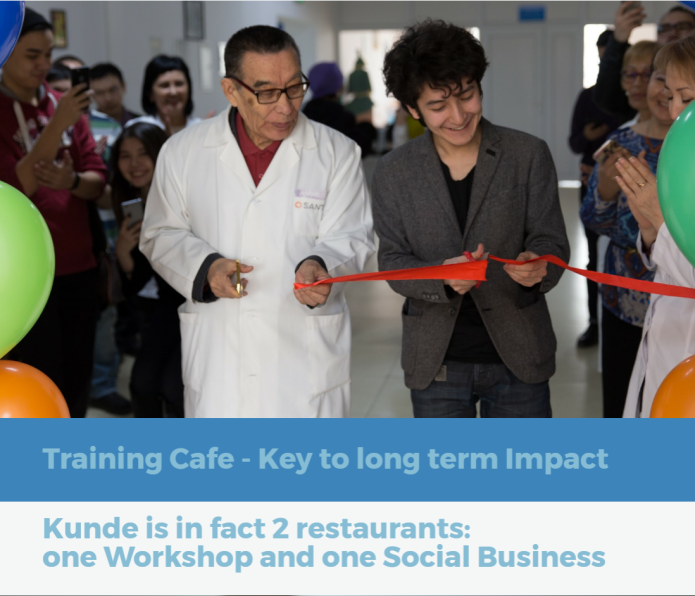 Our mission is to create an accepting, modern and inclusive society. Kunde cafe is an opportunity to do good on many levels. For our teammates, adults with mental disabilities, it is an opportunity for fulfilling work, recognition and freedom. For visitors it is a great way to connect and make a difference just by having lunch. Kunde cafe will bring together two groups of people: our teammates living in isolation for most of their lives and the most talented students in the country who will be the change tomorrow.
What Have We Done So Far?
Künde Cafe was a community project from the start and because of our cause we were able to attract some of the best and high paid professionals like psychiatrists chefs and bartenders that are helping us train our teammates and get this project off the ground. We managed to gather the best restaurant business experts to help us build a life changing place that will sustain itself and satisfy its guests. Our teammates have completed trainings and certifications thanks to our partners at Park Inn hotels and restaurants, Rumi Restaurants and Le Dessert.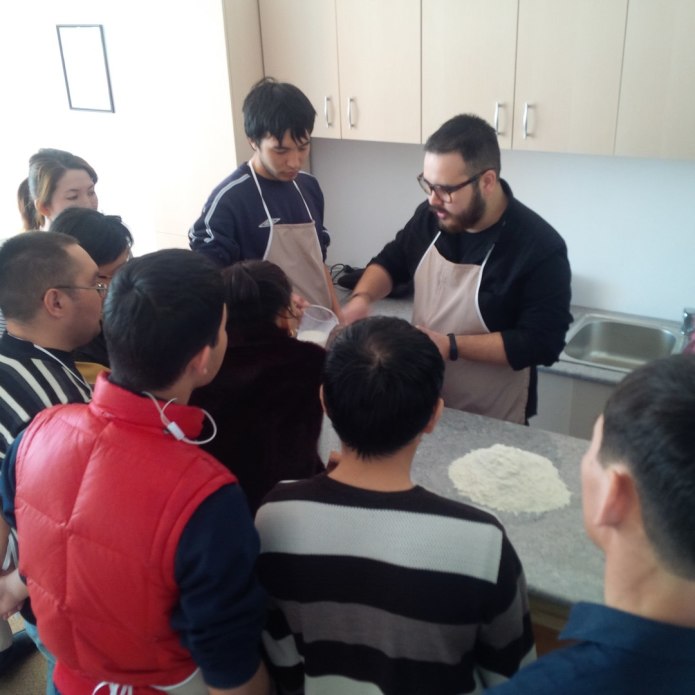 Kai, our head chef is showing how to make bread in the cafe training at therapeutic workshops.
While organizing therapeutic workshops we have also participated in a handful of business education programs and competitions and we have received recognition and awards for our work. The biggest achievement so far was winning a 10.000 $ award at the ABC Quick Start Astana Business Campus start up accelerator in early 2017, which helped us kick-of the Kunde Cafe project from the ground. Here are some of the events and workshops we participated in so far: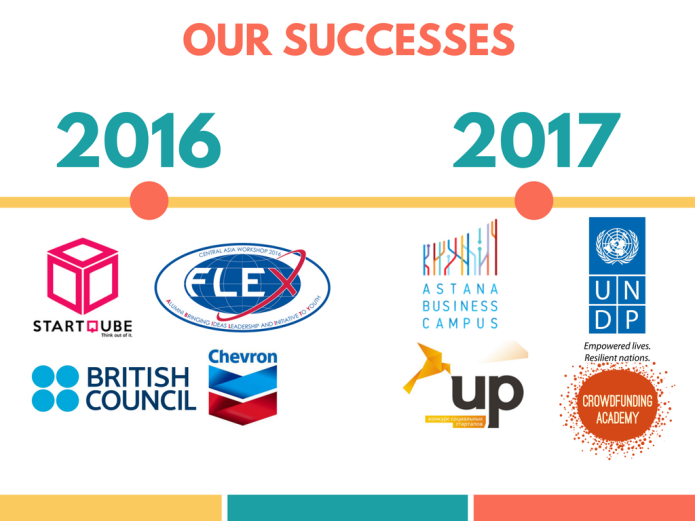 FLEX-Ability accelerator StartQube by American Councils, Bishkek, 2016.
I-SEED (Innovations in social entrepreneurship and education) acceleration program by British Councils and Chevron, Astana, 2016.
SAP Up National social projects contest - top 10 projects in Kazakhstan, Almaty, 2017.
ABC Quick Start Astana Business Campus start up accelerator, Astana, 2017.
UNDP Crowdfunding Academy, Cairo, Egypt, 2017.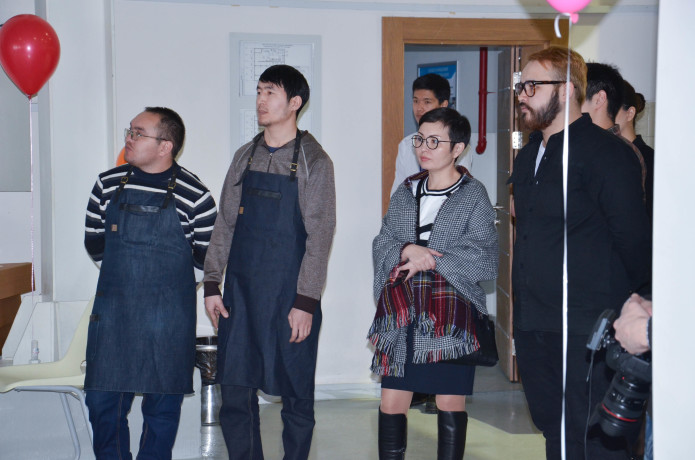 Arman, Daniyar, Kai and Assem, the head psychologist at the Demo Day of ABC Quick Start Business campus Accelerator.
What Do We Need Now?
We have already come a long way, we have been training with our teammates for more than 6 months and we have a secured a venue and some of the equipment. Now we need Your help to finish the renovation and open Kunde cafe this summer! We need $ 10.000 to make the necessary refurbishments to the Kunde cafe and to pay out initial salaries before we become self sustainable.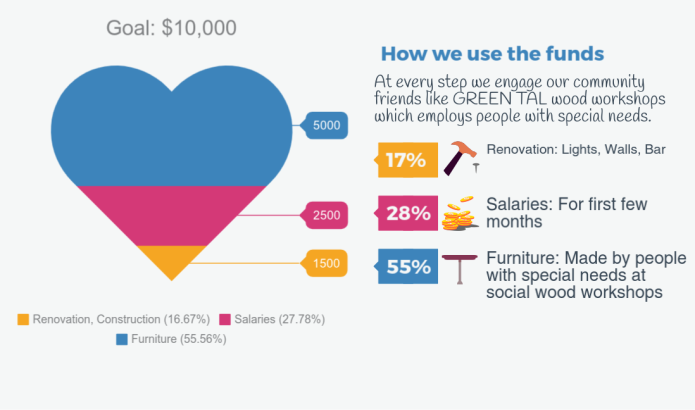 We are making sure that every step of the way changes lives in meaningful ways. In Kunde we use ecological materials and recycle as much as we can. Large part of the furniture at Kunde will be made in therapeutic workshops and by Emin Askerov and his company GREEN TAL, one of the most impactful social businesses in Kazakhstan which also employs people with special needs.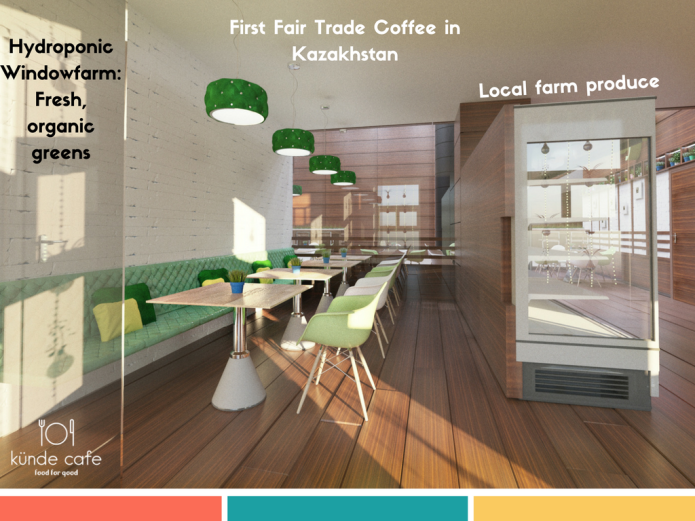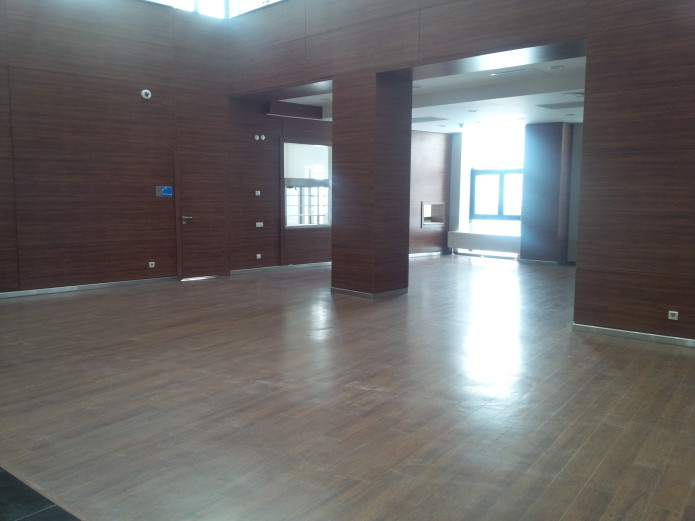 How Can You Help?
If you want to help and become a part of the Kunde success story you can donate but you can also select some of the Perks we have prepared for You!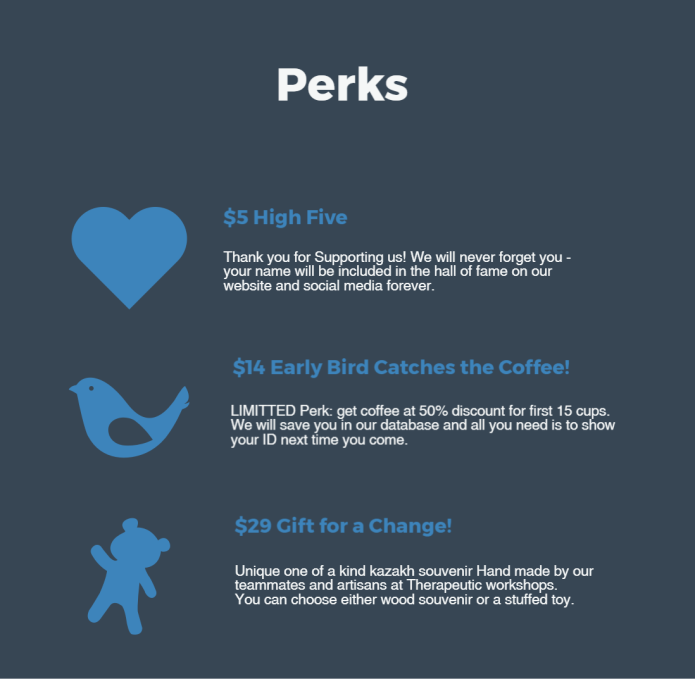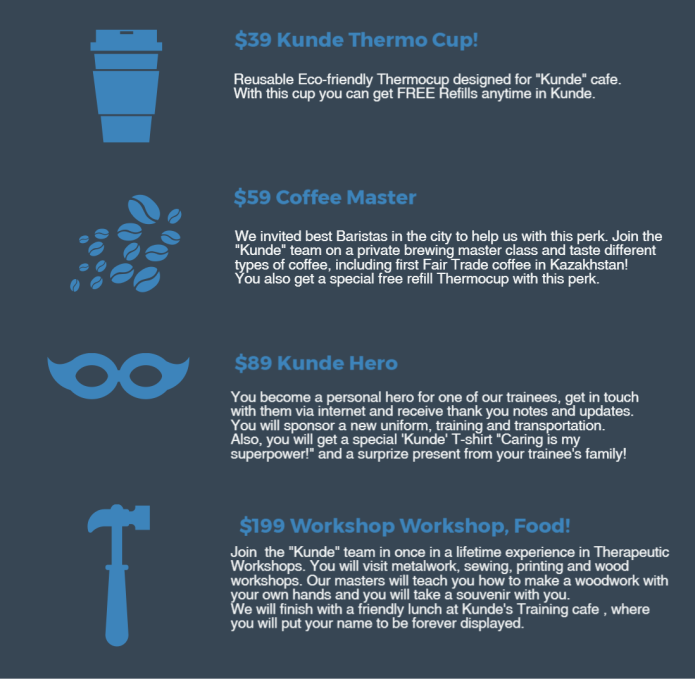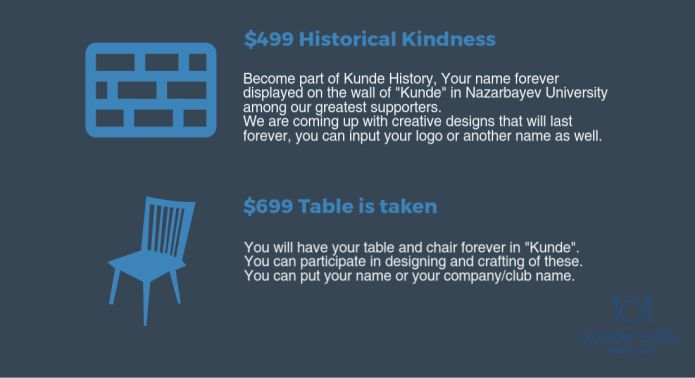 Where Are We Going And How Do We Get There?
In one month of being in business Kunde cafe is projecting to raise more money than five previous charity fairs combined, plus it will not depend on generosity of some big sponsors or grants every year. Once we open the cafe and start working we will support ourselves and become sustainable.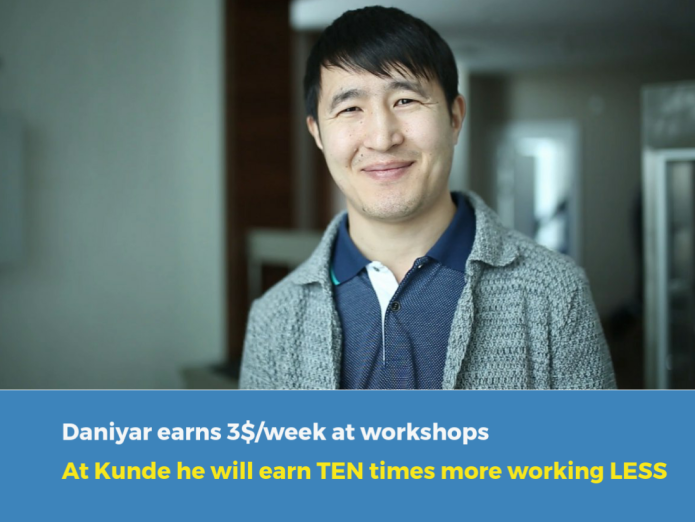 From there we will continue to help more and more people every day. Our plan is to employ 15 teammates within the first three months. For most of them it will be their first paid job with equal opportunity salary and this will in so many ways help them and their families, who spent most of their time taking care of them and now they will be more free and less financially stressed.
Künde Cafe Location: Nazarbayev University
We are located in Astana, Kazakhstan and thanks to the tremendous support of Nazarbayev University administration we have one of the best brand new spots in the city for a cafe which is located within the University grounds!

From students to professors, the NU community is one of the most accepting and socially engaged communities in the country. Moreover, as a big part of our team are NU students, we believe that it is our duty to use our knowledge to make positive changes in our society. We can start solving this big problem everyday with Künde and hope to inspire more people to engage in social activism.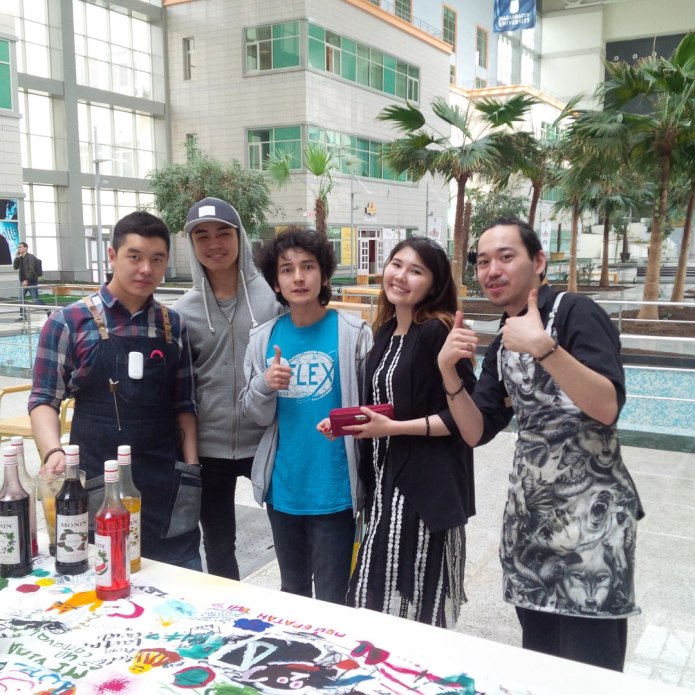 Students and professors at NU already helped us organize many fundraising events and activities for Kunde.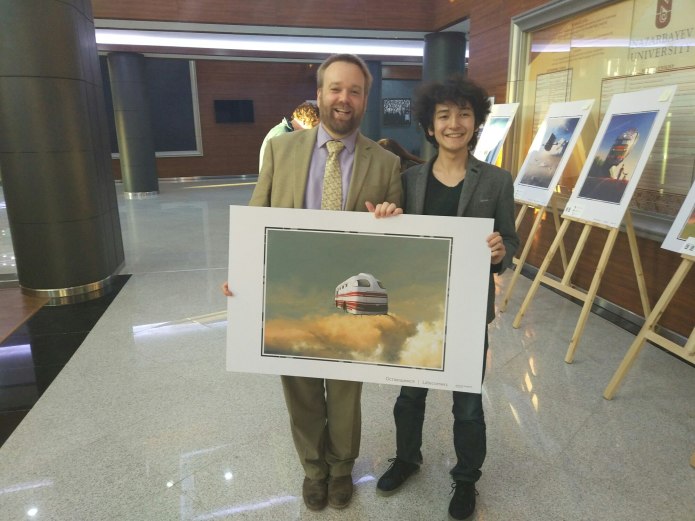 Charity Auction and Dr. Daniel Pugh who out bid Dr. Loretta O'Donnell for this painting.
The Künde Cafe Team
We have been in the team behind this project for many months now, but we have also received a tremendous amount of help and support for which we are very thankful!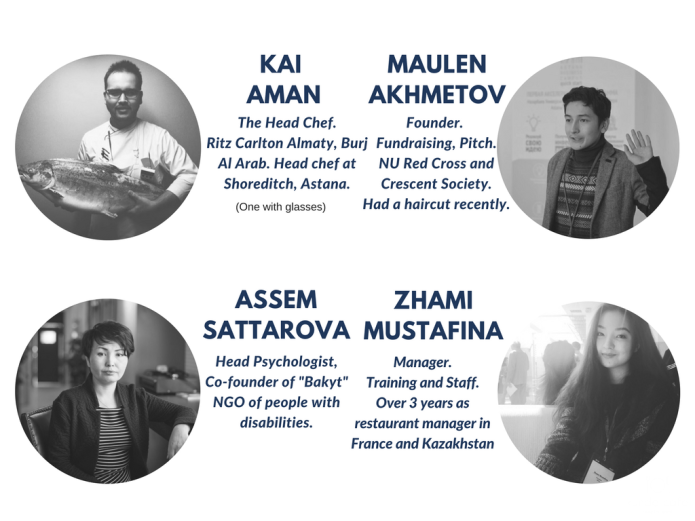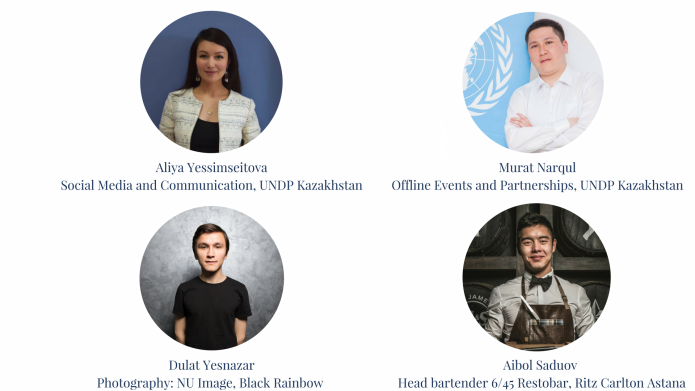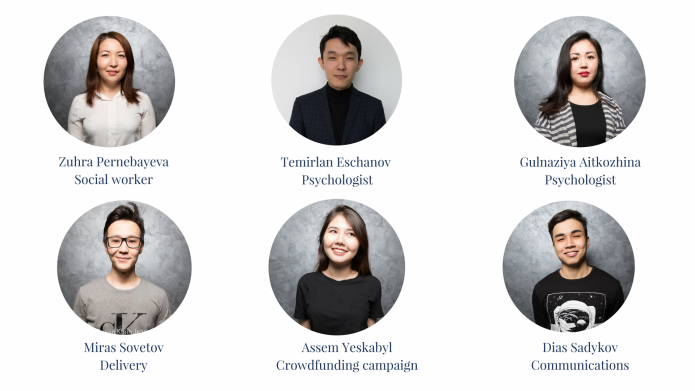 Our Mentors